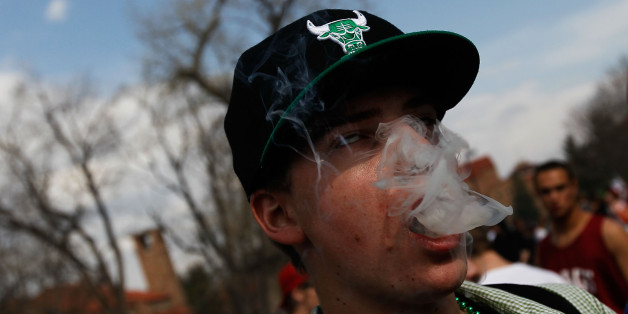 Americans are largely in support of legalizing marijuana for recreational use, a new HuffPost/YouGov poll shows. But the poll shows Americans are even more likely to support legalizing marijuana use by individuals in their own homes, while few want it to be legal to light up in public.
According to the new poll, 49 percent of Americans think marijuana should be legalized, while 38 percent said it should not be. Even more -- 55 percent -- said they would support their state "passing a law making recreational marijuana use legal but taxing marijuana sales, limiting the sale of marijuana only to people 21 years old or older, and making it illegal to take marijuana out of state," similar to the laws that have been passed in Colorado and Washington.
Sixty-two percent of Democrats and 60 percent of independents, but only 37 percent of Republicans, said they would support a marijuana legalization law like the ones in Colorado and Washington.
Americans are even more likely to support making it legal for a person to use marijuana in their own home. Sixty-six percent of Americans said that it should be legal to smoke pot in a private residence, including 72 percent of Democrats and 70 percent of independents. Even Republicans tended to say that smoking marijuana in a private residence should be legal, by a margin of 50 percent to 39 percent.
But even among those who are generally supportive of legal weed, there are limits. Only 15 percent of respondents said it should be legal to smoke marijuana on a public sidewalk, while 18 percent said it should be legal to light up in a public park. Twenty-five percent said they supported legal marijuana consumption in bars. Majorities of Democrats, Republicans and independents all agreed that smoking marijuana should be illegal on public sidewalks, in parks and in bars.
Most respondents (57 percent) also said they would support allowing marijuana use in private marijuana clubs. Sixty-five percent of Democrats and 62 percent of independents, but only 37 percent of Republicans, agreed.
The HuffPost/YouGov poll was conducted July 28-30 among 1,000 U.S. adults using a sample selected from YouGov's opt-in online panel to match the demographics and other characteristics of the adult U.S. population. Factors considered include age, race, gender, education, employment, income, marital status, number of children, voter registration, time and location of Internet access, interest in politics, religion and church attendance.
The Huffington Post has teamed up with YouGov to conduct daily opinion polls. You can learn more about this project and take part in YouGov's nationally representative opinion polling. Data from all HuffPost/YouGov polls can be found here.

Also on HuffPost:
Most Influential People Who've Used Marijuana
SUBSCRIBE AND FOLLOW
Get top stories and blog posts emailed to me each day. Newsletters may offer personalized content or advertisements.
Learn more