Mike Fernandez, a Cuban-American billionaire who famously feuded with the re-election campaign of Florida Governor Rick Scott (R), is offering to fund the $5-10 million flagpole project, according to WSVN. His location of choice is a sliver of land in the public Museum Park, which sits on prime downtown waterfront.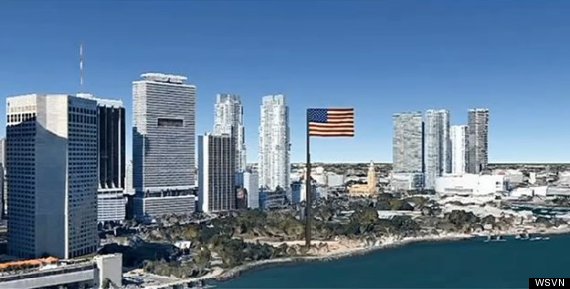 Concept art for the proposed project.
Fernandez has been a headline mainstay this year in Miami.
The son of a shopkeeper, Fernandez built his fortune in healthcare companies after arriving from Cuba at age 12.
"You can put a glass of water in front of people and whether they drink is up to them. This country puts a lot of glasses in front of people and a lot of people choose not to drink. I come from a pretty arid place so I drink," he told Florida Trend last year.
Also on HuffPost:
Distinguishable Members Of Congress
SUBSCRIBE AND FOLLOW
Get top stories and blog posts emailed to me each day. Newsletters may offer personalized content or advertisements.
Learn more