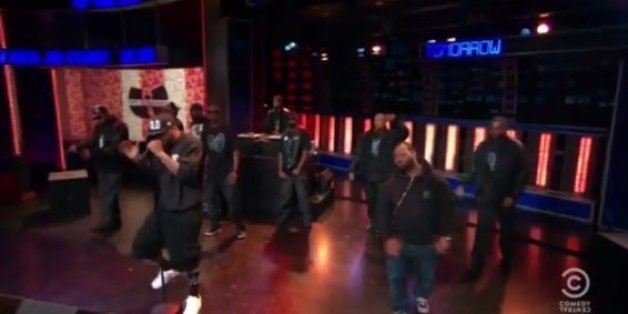 All nine living members of the Wu-Tang clan reunited on "The Daily Show" last night to perform a new single, "Ron O'Neal," from their upcoming album. Jon Stewart even managed to find a table that was big enough to host everyone.
Raekwon, GZA, RZA, Ghostface Killah, Method Man, Inspectah Deck, U-God, Masta Killa, and Cappadonna gathered together to talk about their anticipated record, "A Better Tomorrow," which they announced would be out before Christmas, and what it's like to gather the group back together. (Ol' Dirty Bastard, a founding member of Wu-Tang, died in 2004.) In addition to the new single, Wu-Tang Clan also performed the 1997 hit "Triumph."
See all nine members perform "Ron O'Neal" below:
And their interview with Jon Stewart:
Also on HuffPost:
Celebrities Who Got Their Big Breaks Later In Life
SUBSCRIBE AND FOLLOW
Get top stories and blog posts emailed to me each day. Newsletters may offer personalized content or advertisements.
Learn more