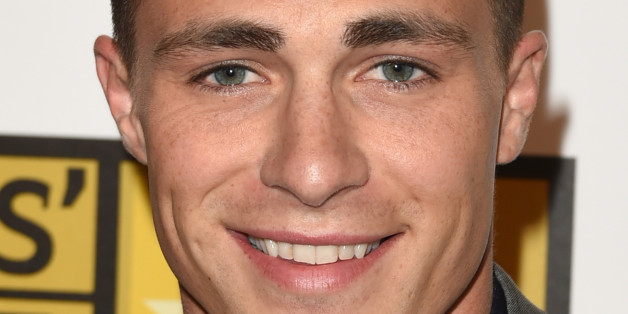 Actor Colton Haynes, of "Teen Wolf," "Arrow," and generally-being-handsome fame, recently live-tweeted an awkward first date he overheard while out at dinner.
The star was eating at his table when the conversation of two nearby strangers caught his attention. Gathering that they were on a first date after meeting online, Haynes shamelessly threw all privacy concerns aside, and proceeded to share snippets of their exchange with all his Twitter followers:
I am sitting next to the a couple on their 1st date who met online and it's a conversation I have to live tweet about right now. Stay tuned
His coverage follows the couple through their introductory period:
He's currently explaining to her the amount of women he's hooked up with after the first date...it's a lot
O god...he's still married
To the even more uncomfortable mid-date:
HE JUST CALLED HER THE WRONG NAME!!! After 30 mins of their date, he called her Terry...her name is Tracey
Awkward silence followed by a bathroom break on his part...I can't get a read on Tracey yet
Thk god he just peed...he's back. Cue Tracey leaving to the bathroom. Might I add, she didn't check her phone once, he just got on his
Through this whole thing...
Dan just said "There's a girl here that I call my cousin...but she's not my cousin, she's my ex girlfriend." I'm dying laughing
U guys...I am now sweatin laughing. I'm a terrible person but he just said he dated his second cousin once. I SWEAR ON MY LIFE HE SAID THAT
Dan just said "my feet hurt all the time"...TRACEY ASKED FOR THE CHECK!!! Hell yes Tracey!
No joke, I just followed them out (without paying yet) and Tracey just peaced out!!! Tracey-1, Dan-0!!!! Note to self: Do this more often...
For full coverage of the "event," head on over to Colton Haynes' Twitter feed, where the world is reading every first date attendee's nightmare come to life.
SUBSCRIBE TO & FOLLOW ENTERTAINMENT
HuffPost Entertainment is your one-stop shop for celebrity news, hilarious late-night bits, industry and awards coverage and more — sent right to your inbox six days a week. Learn more