Ferguson Police Department Will Not Release Name Of Officer Involved In Michael Brown Shooting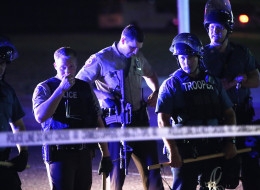 The Ferguson police department will not release the name of the officer involved in the fatal shooting of 18-year-old Michael Brown, an incident that has grabbed the nation's attention and sparked outrage in the local community.
#Ferguson PD now says it will NOT release name of officer involved in #mikebrown shooting. @RocheMaddenTV just confirms via @GIJoter

— FOX2now (@FOX2now) August 12, 2014
The move is an apparent shift after Chief Thomas Jackson initially said that the name would be released by 12 p.m. on Tuesday. The department reportedly chose to delay releasing the name out of fear for the officer's safety.
#BREAKING #Ferguson police say they're delaying the release of the officer's name because of threats made towards officers on social media

— Ryan Dean (@RyanDeanKSDK) August 12, 2014
Police said Brown, who was unarmed, was shot multiple times Saturday after being confronted by a white officer in Ferguson, a town that is nearly 70 percent black. The FBI opened an investigation into Brown's death on Monday. Authorities have offered vague details about the confrontation but said the officer involved has been placed on administrative leave.
Local residents have taken to the Ferguson streets in demonstrations that have been both violent and peaceful.
Demonstrators continued to clash with the local authorities
well into Monday evening.
Share +
USA Today's Yamiche Alcindor provides an intimate look at how Michael Brown's parents have been dealing with the loss of their son:
Phones constantly ring with reporters asking for interviews or family members offering support. Last week, as demands reached a tipping point, both parents moved into hotels to shield themselves.

In the days leading up to the funeral, Brown's mother continued to cry and spoke in whispers as she tried to explain her feelings.

"They say tomorrow is going to be the hardest day, but I think today was — just seeing my baby laying there, cold," Lesley McSpadden, 34, told USA TODAY. "It did something to my heart. It's too much. It's too much."