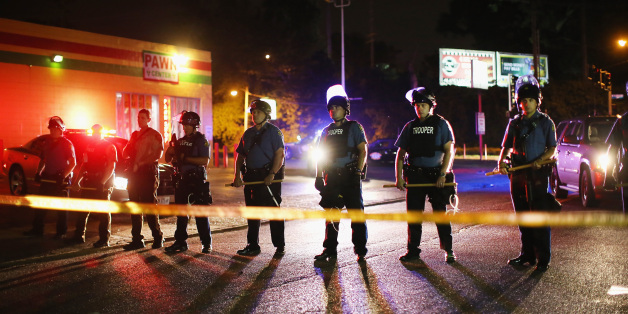 Scott Olson via Getty Images
Journalists encountered a threatening response from police as they tried to cover the protests in Ferguson, the Missouri town that has been upended by the police killing of Michael Brown, an unarmed black teenager.
While there was a spate of looting on Sunday night, Monday's demonstrations were peaceful. Protestors faced tear gas and rubber bullets from officers trying to break their ranks up. At the same time, police told local media to get out of the area.
Omg, tear gas in my eyes, nose.. It burns. Ugh!
Now this. Plus noisemakers. Everybody runs. Reminds me of Cairo. pic.twitter.com/wlYijTHT66

— Matt Pearce (@mattdpearce) August 12, 2014
Police shooting rubber bullets at crowd, including reporters and photographers. #Ferguson
Newspaper photographer in America ---> RT @PDPJ: Being ordered to leave scene threatened with arrest #Ferguson

— Jake Tapper (@jaketapper) August 12, 2014
A line of police cars with high beams on greets anyone trying to enter #Ferguson. It's shut down. No media allowed. pic.twitter.com/pPE2m4G0UQ

— Antonio French (@AntonioFrench) August 12, 2014
Police making local media leave so "we can disperse remaining people." Calling local stations telling them to pull out news trucks
Eventually officers charged again. Handful reporters/photogs threatened if we didn't move.
"Your last warning, you're putting lives at risk"

— Wesley Lowery (@WesleyLowery) August 12, 2014
Not leaving, let's see if I end up in cuffs
Protests are continuing, and the FBI has begun an investigation into Brown's killing.
Michael Brown Shooting Demonstrations
FOLLOW HUFFPOST