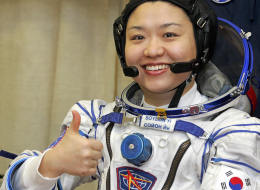 Yi So-yeon, South Korea's first and only astronaut, just quit her job.
The 36-year-old engineer cited personal reasons in her resignation letter to the Korea Aerospace Research Institute, according to media reports in Korea.
Yi, who has been on a leave of absence to pursue an MBA in the U.S., became the first Korean in space in 2008 when she rode on a Soyuz rocket to the International Space Station. She spent 11 days on the ISS and then spent the next four years working for the institute before deciding to pursue the degree.
In the wake of Yi's resignation, South Koreans are questioning the government's decision to spend millions in taxpayer money on the astronaut, The Korean Herald reported. The institute reportedly spent more than $25 million to send her into space.
Yi herself faced criticism last year for her decision to pursue her MBA. She defended her decision at that time by saying her goal was to advance Korean space technology, adding, "It was a decision I made after realizing that I can't live the rest of my life talking about what I did in space for 11 days."