In the video above, 4-year-old Eliza O'Neill sings two lines from the song "We are Young" by Fun. Eliza loves to sing, but if her parents don't raise the $2.5 million that's needed to fund a clinical trial for Sanfilippo Syndrome, the little girl won't be able to.
Now, in lieu of the viral ice bucket challenge that's raised almost $23 million as of Tuesday morning for ALS, the O'Neills are challenging people to #Sing2Lines of any song, post the video to social media, then tag 5 friends to do the same. If not, they're asking those nominated to donate $50 to their cause.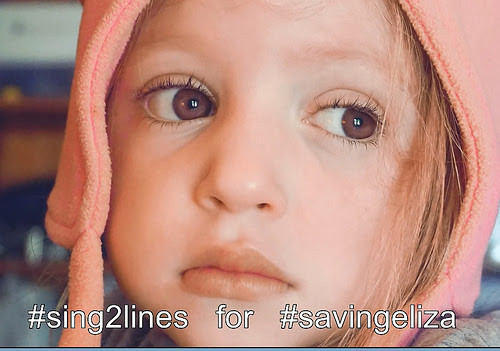 The O'Neills have provided text that anyone who wants to get involved can copy/paste on social media:
I've been challenged to #sing2lines for #savingeliza. This urgent campaign is to stop the fatal childhood disease Sanfilippo Syndrome for Eliza and other kids. I challenge my 5 friends (add name tags here) to sing 2 lines from any song of your choosing, and challenge 5 of your freinds. Should you not accept, please we ask donate $50 to www.SavingEliza.com (and you can always sing, challenge and donate!) Thank you! #sing2lines #savingeliza
SUBSCRIBE AND FOLLOW
Get top stories and blog posts emailed to me each day. Newsletters may offer personalized content or advertisements.
Learn more