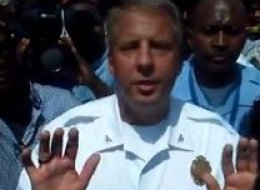 St. Louis officials have identified the 25-year-old man shot dead yesterday in an officer-involved shooting that happened only a few miles from where Michael Brown was killed by police earlier this month.
Authorities said Kajieme Powell stole donuts and energy drinks from a store yesterday afternoon, which prompted the owner to call police, according to KSDK. When two officers arrived shortly before 1 p.m., they said they observed Powell acting erratically. He refused to put down a knife when commanded to do so, police said.
Witnesses said the suspect yelled, "Shoot me now. Kill me now," before approaching officers. Some people who saw the shooting described it as "suicide by cop," according to USA Today.
In a statement delivered before a crowd near the scene of the shooting, St. Louis Police Chief Sam Dotson said that both officers opened fire on Powell after the suspect came within three or four feet of police while holding the knife in an "overhand grip."
UPDATE: Aug. 21 -- St. Louis police released graphic video of the shooting Wednesday that appears to undermine key elements of the official statement.
Police identified Powell Tuesday night, as about 150 people gathered near the scene of the shooting. The St. Louis Post-Dispatch reports that a peaceful protest at the store disbanded by 1 a.m., Wednesday morning.
The newspaper reports:
At its height, the crowd around the market numbered about 150. Some of them at times shouted "Hands up! Shoot back!" as police officers stood nearby.
Earlier, St. Louis aldermen Antonio French and Chris Carter urged people at the scene to remain calm.
"Let's be patient," French said in raw video that emerged yesterday afternoon. "The last thing we need is violence in our neighborhood. No silliness over here. We're going to find out what happened. You've got people that got your back over here. You aren't alone like they are in Ferguson."
Tuesday's shooting happened about three and a half miles from where Michael Brown, an unarmed teenager, was shot and killed by police on Aug. 9.
Like Us On Facebook |

Follow Us On Twitter |

Contact The Author