The Most Delicious Grilled Cheese Sandwiches On The Planet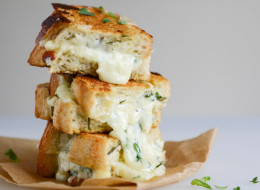 In terms of comfort food, grilled cheese is the comfiest. Not only does it evoke memories of childhood dinners, it also makes for the perfect winter meal when paired with hot soup. It's also great on the crispiest of fall evenings. Or, as a quick lunch in summer. Who are we kidding? Grilled cheese is perfect anytime of the year.
As much as we adore, and often crave, the American cheese version of these beloved sandwiches, trying out different cheeses and add-ons is always a rewarding experience. We piled dill pickles, tomatoes and deli meats on our grilled cheese as kids, but we're ready to explore more, with new, interesting toppings. (Kimchi grilled cheese, anyone?)
Here are 25 of the gooiest, tastiest grilled cheese recipes we could wrangle up. We suggest you try them all.
Homemade American Cheese

Inside NanaBread's Head

Spicy Mini Meatball Grilled Cheese

How Sweet It Is

Grilled Cheese With Avocado And Heirloom Tomato

Fifteen Spatulas

Fajita Grilled Cheese

Eclectic Recipes

BLT Grilled Cheese

Foodie Crush

Crispy Zucchini Grilled Cheese

How Sweet It Is

Spinach And Artichoke Grilled Cheese

Annie's Eats

Arugula And Ham Grilled Cheese

sixteenbeans.

Grilled Figs and Cheese

80 Breakfasts

Grilled Cheddar With Bacon And Tomato Jam

Dinner was Delicious

White Pizza Grilled Cheese

How Sweet It Is

Steak & Potato Barbecued Grilled Cheese

BS in the Kitchen

Balsamic Brussels Sprouts Grilled Cheese

How Sweet It Is

Kimchi Grilled Cheese

cynthia | two red bowls/Food52

Broccoli & Cheddar Soup Grilled Cheese

BS in the Kitchen

Grilled Pimento Cheese Sandwich

Honeysuckle Life

Caprese Grilled Cheese

Cooking Classy

Loaded Nacho Grilled Cheese

BS in the Kitchen

Bacon Jam And Avocado Grilled Cheese

Closet Cooking

Margherita Pizza Grilled Cheese

BS in the Kitchen

Tomato Basil Grilled Cheese

Espresso And Cream

French Onion Grilled Cheese

Jessica Dasilva

Fried Chicken And Waffle Grilled Cheese

Adrienne's House

Grilled Cheese Pull-Aparts

The Creamline

Super Frico Grilled Cheese

Steamy Kitchen
Want to read more from HuffPost Taste? Follow us on Twitter, Facebook, Pinterest and Tumblr.