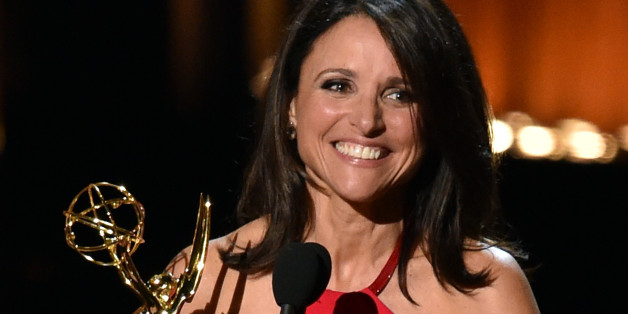 We'll admit, we were a little intimidated by this week's award show double-header. Beyoncé! Lena! Tina and Amy! Laverne! Absolutely everything about "Orange Is The New Black!" But if there's one thing we were blissfully reminded of in the last 48 hours, it's that there's never too much of a good thing when it comes to women in show business.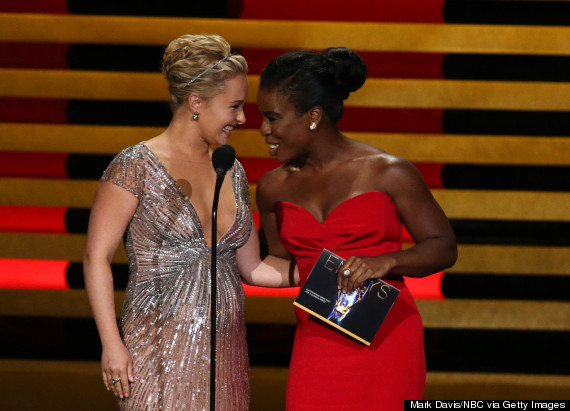 Hayden Panettiere and Uzo Aduba on stage during the 66th Annual Primetime Emmy Awards.
Every woman nominated in the lead actress categories -- Michelle Dockery, Claire Danes, Julianna Margulies, Robin Wright, Lizzy Caplan and Kerry Washington for Drama and Lena Dunham, Melissa McCarthy, Edie Falco, Taylor Schilling, Amy Poehler and Julia Louis-Dreyfus for Comedy -- earned her stripes portraying a well-developed, powerful woman.
We were thrilled for Julianna Margulies who took home the award for Outstanding Lead Actress in a Drama Series and Julia Louis-Dreyfus who triumphed in the Comedy category, but among such a diverse and talented group of women, no outcome would have left us all that disappointed.
Lowlights:
- Stephen Colbert acknowledged a serious lack of women in comedy while accepting "The Colbert Report's" award on behalf of his team of writers for Outstanding Variety Series. "I'm so proud of these guys and one woman," he said. "Sorry for that, for some reason."
-Putting Sofia Vergara on a spinning pedestal to serve simply as "something good to look at."
- The "Orange Is The New Black" shut-out. Perhaps the most progressive televised take on womanhood of this decade, the Netflix series was nominated in six categories. Uzo Aduba won the award for Outstanding Guest Actress in a Comedy Series at a previously-held ceremony.
Here's how women on Twitter reacted to to the 2014 Primetime Emmy Awards:
Women React To The 2014 Emmys
SUBSCRIBE AND FOLLOW
Get top stories and blog posts emailed to me each day. Newsletters may offer personalized content or advertisements.
Learn more