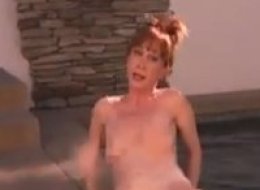 Not that comedians are supposed to lend dignity to the ice bucket challenge -- but ahem.
Former "My Life On The D-List" subject Kathy Griffin went nude for her stunt to benefit research for the ALS Association.
While she's no stranger to partially undressing on television, this time she spared viewers of "Jimmy Kimmel Live" nothing, even spreading her legs at one point.
You do you, Kathy. You do you.
This is the one time we're thinking the censorship on "Kimmel" was totally necessary.