Scott Eastwood is an up-and-coming actor. He's starring alongside Brad Pitt in the upcoming film "Fury," and he'll be the leading man in "The Longest Ride," a movie adaptation of a Nicholas Sparks novel of the same name.
But though the dashing 28-year-old is following in dad Clint Eastwood's famous footsteps, he says his father never persuaded him to become a thespian.
Instead, Eastwood told NBC's "Today," his dad was more concerned about what sort of person he'd become.
"[My dad] didn't care what I did," he told the news outlet in a recent interview. "He didn't care if I was a plumber or if I was an actor. He said, 'Whatever you do just do it well, and be humble about it and be a good guy; and tell the truth.'"
Eastwood, who lives in San Diego, California, added that he's also learned how to "be a man" from his film legend dad. Sometimes you just have to "shut up and do the job," he quipped.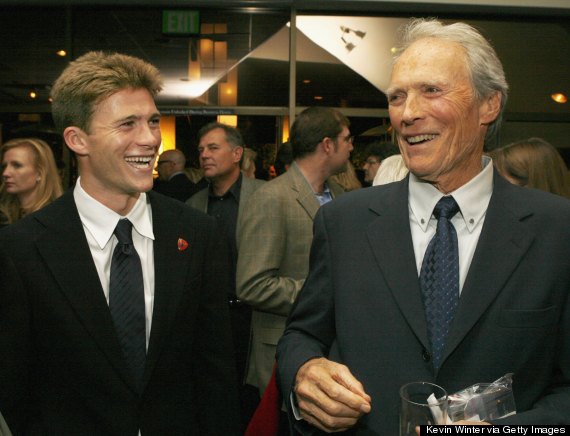 Scott Eastwood and his dad, actor/director Clint Eastwood, talk at the after-party for the premiere of Paramount's "Flags Of Our Fathers" at the Academy of Motion Picture Arts and Sciences on October 9, 2006 in Beverly Hills, California.
This isn't the first time that the young actor, the fourth of the elder Eastwood's seven children, has dished on his dad's words of wisdom.
"As a director and an actor, my dad's motto is 'Tell the truth,'" Eastwood told Town & Country last year. "The only way of doing that is having life experiences and being a storyteller."
He added that he hopes to be "a no-bullshit leading man," just like his famous father.
ALSO ON HUFFPOST:
PHOTO GALLERIES
14 Surprising Hollywood Relatives