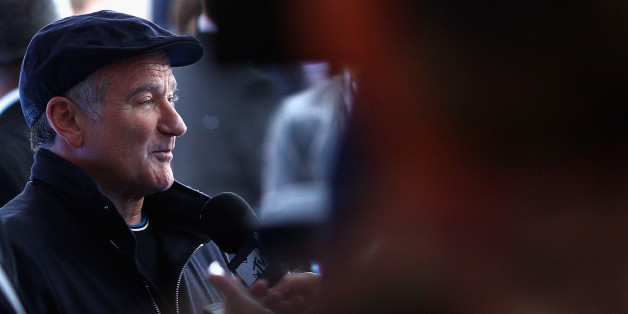 Communing over a celebrity's death can feel crucial to our own understanding of what happened and an important jump start to the healing process. You don't have to look any further than the recent tragic passing of Robin Williams at the age of 63: News articles and social media updates about the adored actor and his mental health flooded the media landscape.
Now, a new study suggests there can also be a dangerous consequence to the reports if a celebrity's death was the result of suicide.
Researchers from Chung-Ang University investigated the nature of celebrity suicide media coverage and found that the number of suicide-related articles increased 80 times the normal amount in the week following prominent South Korean entertainer Choi Jin-sil's suicide in 2008. Researchers also discovered that 37 percent of those news articles didn't comply with the World Health Organization's recommended guidelines for suicide stories, and as a result, had potential to cause a subsequent copycat effect -- also known as suicide contagion.
This new research isn't the first time suicide reactions and reporting have been under scrutiny. Following Williams' death, many took to social media to share heartfelt condolences and memories of the beloved actor. But many of these well-meaning public expressions of grief, like The Academy of Motion Picture Arts & Sciences' "Genie, you're free," tweet, can also unintentionally promote suicide contagion.
"These stories, unfortunately with a celebrity, are going to get repeated," Madelyn Gould, Ph.D., a professor of psychiatry at Columbia University, previously told HuffPost Healthy Living. "We know from our research and other research that the more there are such stories, the greater the likelihood that there will be some vulnerable person who ... gets the message that suicide is the only way out."
In 1989, the CDC composed recommended guidelines for news organizations to help minimize the risk overexposure to suicidal behaviors or other factors that may influence those with suicidal tendencies. Overly sensational coverage, glorification of suicide and details on the methods used are strongly discouraged in order to promote responsible reporting when it comes to the sensitive subject. The World Health Organization, whose guidelines were examined in the study, and the National Institute for Mental Health all have similar recommendations when it comes to publishing stories on suicide-related incidents and deaths.
The guidelines not only serve as a list of triggers to avoid, but as a powerful suggestion of ways to help those who may be at risk or suffering. The CDC recommends that coverage also address the problem of suicide by providing information on common risk factors, how to receive support or how to identify someone who may be at risk. And as suicide rates continue to grow, experts say it's more important than ever for media outlets to encourage conversations about mental health -- but only while being mindful of the guidelines.
"A quarter of the population suffers from mental health issues that could potentially drive suicidal thoughts," Christine Moutier, chief medical officer at the American Foundation for Suicide Prevention, told the Washington Post last month. "This is a very important issue, from a public health standpoint, and one we need to bring to light."
CLARIFICATION: Language has been updated to reflect that while the research was conducted last month, the actress's death occurred in 2008.
Have a story about depression that you'd like to share? Email strongertogether@huffingtonpost.com, or give us a call at (860) 348-3376, and you can record your story in your own words. Please be sure to include your name and phone number.
Need help? In the U.S., call 1-800-273-8255 for the National Suicide Prevention Lifeline.

ALSO ON HUFFPOST:
PHOTO GALLERIES
Depression Symptoms