Children need to be taught that violence toward women is never, ever acceptable. But humiliating them is not the way to teach them that lesson -- or any lesson, for that matter.
When dad Rob Devine found out his 4-year-old son, Tristan, had gotten in trouble at school for hitting female classmates, he took a very public punitive approach. Last week, for one hour, he stood with Tristan on the side of the road in their hometown of Monroe, Michigan, and had him hold a sign that read, "I hit little girls."
(Story continues below.)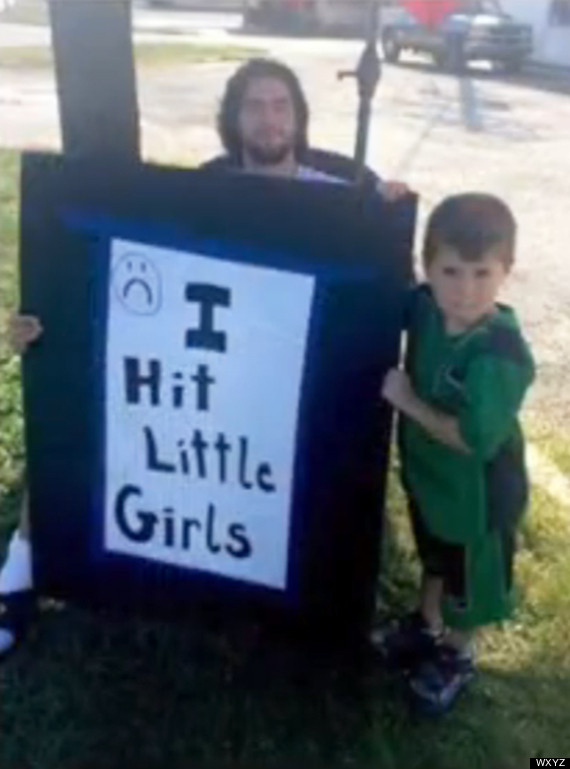 "I want him to know you can't go out and do these things and expect them to go away unnoticed," he told ABC local affiliate WXYZ.
But Devine's actions may not achieve his aim.
"It's not just that humiliating people, of any age, is a nasty and disrespectful way of treating them," Kohn said in his interview with Belkin. "It's that humiliation, like other forms of punishment, is counterproductive."
Kohn went on to say that this methodology perpetuates a cycle of abuse.
"No wonder so many adults who do terrible things were humiliated, or spanked, or otherwise punished -- often harshly -- when they were young," he said.
Tristan's mother, Brittany Tweed, who apparently is separated from his father, told WXYZ she thinks the punishment was overly harsh. She also said the boy will not be going back to his father's house, adding that she's asked child protective services to intervene.
"What should be happening is that everyone should be getting counseling so they can resolve their problems and work together to address Tristan's violent behavior," writes The Stir.
Also on HuffPost:
Kids Who Have Worn Signs As Punishment
FOLLOW HUFFPOST