From the outside, an acorn squash doesn't look like much.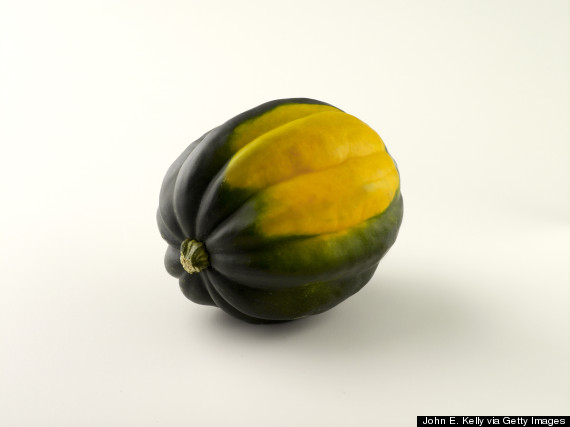 Its thick outer skin is somewhat intimidating, and the whole thing appears to be more decorative than edible. But my, my, my, this little gourd is justifiably an unsung hero of the squash world. It can be baked, nuked, sautéed and steamed into delectable fall dishes good enough for an entree. Acorn squash can be pureed into a soup or stuffed with filling and can be used as a bowl itself, too. Once cooked, its fiber-rich orangey flesh will satisfy the hungry.
Oh and how it pairs -- so simply -- with a pat of butter and a dash of freshly ground pepper. You'll pass this vegetable near its butternut and spaghetti squash relatives, and the next time you do, pick a couple up to make one of these 24 recipes below.
Stuffed Acorn Squash & Wild Rice Medley (Vegan)

The Simple Veganista

Acorn Alfredo Penne Pasta (Vegan)

Lunchbox Bunch

Black & Orange Forbidden Rice With Acorn Squash & Pecans (Vegan)

A Spicy Perspective

Roasted Acorn Squash Pancakes

Bev Cooks

Crispy Acorn Squash Rounds

How Sweet It Is

Autumn Arugula Salad With Caramelized Squash & Pomegranate Ginger Vinaigrette

How Sweet It Is

Vanilla Bourbon Baked Balsamic Acorn Squash

How Sweet It Is

Chili-Roasted Vegetable Salad

Bev Cooks

Acorn Squash Veggie Burgers (Vegan)

My Whole Food Life

Cranberry Brussels Sprout Stuffed Acorn Squash (Vegan Option)

The Little Leopard Book

Chicken & Black Rice-Stuffed Acorn Squash

Bev Cooks

Acorn Squash Quesadillas

Smitten Kitchen

Acorn Squash Baked Oatmeal (Vegan)

Oatgasm

Pomegranate, Quinoa & Goat Cheese Stuffed Acorn Squash

Hummusapien

Oven Roasted Brussels Sprouts & Acorn Squash

The Healthy Foodie

Acorn Squash & Rutabaga Salad With Creamy Orange Rosemary Dressing

The Healthy Foodie

Smitten Kitchen

Acorn Squash & Sweet Potato Soup

The Healthy Foodie

Winter Squash Hash

Macheesmo

Warm Farro & Mustard Green Salad With Maple Roasted Acorn Squash, Feta & Walnuts

Nicole Franzen/Food52

Roasted Acorn Squash With Brown Sugar

Roasted Corn Pudding In Acorn Squash

Gimme Some Oven

Roasted Acorn Squash & Leek Soup With Pepitas (Vegan)

Skinny Taste

Acorn Squash Dip

Macheesmo


Want to read more from HuffPost Taste? Follow us on Twitter, Facebook, Pinterest and Tumblr.