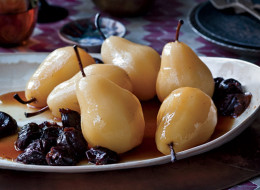 Okay, okay. It's really fall now. How do we know? Not just by the calendar, the scores of fall recipes and everyone saying so -- pears just got delicious again. These juicy fall fruits are one of the reasons we're willing to relax our vice grip on gazpacho every year. Biting into a perfectly ripe pear is one of fall's greatest joys, not to mention tucking them into a hot oven with a little butter and maple syrup.
Pears are also incredibly versatile fruits, capable of transitioning from hors d'oeuvre to salad to main dish to dessert with little effort. Also this fall, we're going to insist that everyone remember how delicious pears can be in punches and cocktails. We're going to get started on pear recipes early this fall, so that we'll have time to fit every single one in.
Pear And Ginger Ricotta Cheesecake With Salted Caramel Drizzle

Manifest Vegan

Caramel & Sea Salt Pear Pancakes

Cookin' Canuck

Cardamom Pear Compote Over Vanilla Tapioca With Meringue And Pistachio

Cooking Melangery

Roasted Pork Loin With Pears

Butterfly Foodie

Four Seasons Sparkling Punch

A Beautiful Mess

Pear Roquefort Salad

Verses from My Kitchen

Focaccia With Caramelized Onions, Pear And Blue Cheese

Quentin Bacon/Food & Wine

Poached Pears With Prunes

Quentin Bacon/Food & Wine

Baked Puff Pastry Pears With Blue Cheese And Walnut Salad

La Receta de la Felicidad

Pear Rosemary Danish

Jennifer Causey/Food52

Bone Marrow And Apple-Pear Confit

PEPPER.PH

Caramel Pears

Oh, Bite It!

Broiled Feta With Caramelized Cinnamon Pears

How Sweet It Is

Braised Chuck With Pear, Chocolate And Ginger

Slim Palate

Spicy Poached Pears With Cinnamon Cream

Authentic Suburban Gourmet

Buttermilk Cake With Riesling-Poached Pears

Michael Turek/Food & Wine

Poached Pear Crumble With Chocolate, Coffee And Nuts

Sips and Spoonfuls

Sweet Potato Pear Soup

Love and Lemons

Nutella And Pear Pinwheel Scones

Bron Marshall

The Pear Upside Down Cake

The Faux Martha

Pear Pie

Sweet Pea's Kitchen

Preserved Pears

Simply Recipes

Pear Frangipane Tart

Beyond the Plate

Vanilla Bean Pancakes With Maple Butter Pears

Naturally Ella

Amaretto Peach And Pear Pie

Heena/Food52

Pear And Cardamom Tarte Tatin

TasteFood

Herbed Magret De Canard Salad With Pears

Cooking in Sens

Rustic Brandied Pear Galette With Caramel Sauce

White On Rice Couple

Pear, Fig Jam, Cheddar, Arugula, Avocado And Prosciutto Panini

Yummy Mummy Kitchen

Pear Coconut Muffins With Brown Butter

Flourishing Foodie

Pear And Almond Chocolate Spice Bundt Cake

Pastry Affair

Dark Chocolate Dreams And Pear Panini

Kelsey Banfield

Pear And Cardamom Strudel

Fish, Chips and Gelato

Pear Vanilla Sorbet

James Ransom/Food52

Rosemary And Pear Mini Pies

A Beautiful Mess

Pear Spice Pecan Loaf

A Splash of Vanilla

Spiced Cranberry, Pear And Ginger Sauce

PitchforkDiaries/Food52

Cocoa Pear Crisps

Sarah Shatz/Food52

Pear Butter

Vintage Mixer

Pear And Almond Galette

The Faux Martha
Want to read more from HuffPost Taste? Follow us on Twitter, Facebook, Pinterest and Tumblr.