Kale Recipes Prove That Healthy And Delicious Can Co-Exist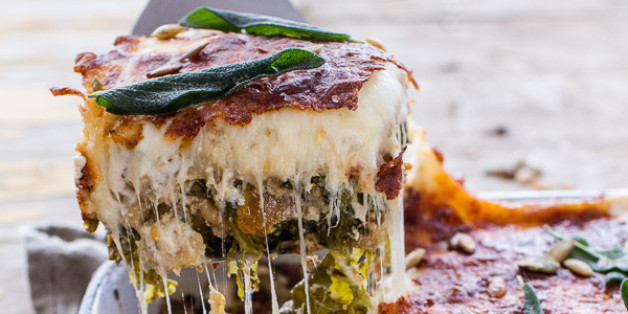 Half Baked Harvest
Kale is one of the healthiest vegetables on earth. We know, we know, you're probably saying, "But guys, aren't ALL vegetables healthy? Isn't that part of being a vegetable?" Well, sure. But we think kale is particularly amazing and we are going to tell you why.
Kale, like all leafy greens, is loaded with vitamins and nutrients -- just one cup contains five grams of fiber, and 15 percent of your recommended daily requirements for calcium and vitamin B6, 180 percent of your vitamin A, 200 percent of your vitamin C and 1,020 percent of vitamin K. We'll repeat that: 1,020 percent of your daily recommended vitamin K, which has been linked to a significantly decreased risk of cancer. Kale is also a natural detoxifier, which is helpful when say, you spend a lot of time eating tacos, drinking beer and attending meat-grilling festivals. (Yes, we're talking about ourselves.)
Kale's ability to be eaten raw, steamed, sautéed, boiled, braised, baked and just about every other method in between makes it pretty hard to get tired of. Just in case, you'll find some delicious kale recipes below.
1

Taleggio Ravioli With Garlicky Butter Kale And Wild Mushroom Sauce

Half Baked Harvest

2

Roasted Kale And Fennel Salad With Avocado Caesar Dressing

Foodie Crush

3

Crispy Kale Grilled Cheese With Fried Eggs

How Sweet It Is

4

Hide Your Kale Smoothie

The Minimalist Baker

5

Simple Caramelized Butternut Squash And Kale Florentine Lasagna

Half Baked Harvest

6

Cheesy Garlic Kale Chips

The Earthen Table

7

Kale And Wild Rice Casserole

Half Baked Harvest

8

Kale And Ricotta Stuffed Shells With Butternut Squash Sauce

Completely Delicious

9

Baked Eggs With Feta, Kale And Cherry Tomatoes

What Should I Have For Breakfast Today

10

Crunchy Thai Kale Salad

The Minimalist Baker

11

Simple Grilled Kale And Red Pepper Tuscan Pasta Salad

Half Baked Harvest

Ellen SIlverman/Food & Wine

13

Kale Breakfast Sandwich

Happy. Healthy. Life.

14

Kale And Apple Salad With Pancetta And Candied Pecans

Con Poulos/Food & Wine

15

Sweet Potato Cream Pasta With Crispy Kale

How Sweet It Is

16

Portobello Mushrooms With Kale Pesto Guacamole

Bev Cooks

17

Spinach And Kale Greek Yogurt Dip

How Sweet It Is

18

Spelt Focaccia With Kale, Squash And Pecorino

John Kernick/Food & Wine

19

Kale And Bacon, Caribbean Style

Steamy Kitchen

20

Crispy Kale Roasted Autumn Salad

Half Baked Harvest

21

Cauliflower And Kale Salad

Steamy Kitchen

22

Cheddar Kale Skillet Cornbread

The View From The Great Island

23

Gnocchi With Sausage And Kale

Bev Cooks

Little Leopard Book

25

Potato And Kale Frittata

New Media Publishing

26

Quick Curried Chickpeas With Tofu And Kale

Bev Cooks

27

Lentil Soup With Kielbasa And Kale

New Media Publishing
Want to read more from HuffPost Taste? Follow us on Twitter, Facebook, Pinterest and Tumblr.