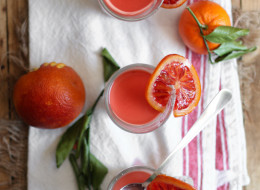 Winter is a sad time for fresh produce. Fresh berries and leafy greens are replaced by root vegetables -- piles and piles of them. While there's a lot to love about sweet potato, celery root and sunchokes, sometimes a person needs to taste something fresh. And that's why we're ever so grateful for the warm parts of the country -- we're looking at you Cali -- and all the citrus it shares with those of us living under heaps of snow.
Naval oranges, clementines and grapefruit, these are winter's saving graces. And it gets even better, with blood oranges.
Blood oranges taste just like regular oranges, only they're BEAUTIFUL. Their orangey-reddish skin hints to the bright garnet flesh that hides inside. While you can use them just as you would any other orange, we found just the recipes you need to show off how very lovely this citrus fruit is.
Blood Orange Croissants

Adventures in Cooking

Blood Orange Margarita

White On Rice Couple

Blood Orange Sugared Scone

How Sweet It Is

Glazed Salmon With Blood Orange Salsa

eCurry

Chocolate Donuts With Blood Orange Glaze

Heather Christo

Blood Orange Loaf Cake

Annie's Eats

Blood Orange Panna Cotta

Adventures in Cooking

Beet, Blood Orange, Kumquat, And Quinoa Salad

Love and Olive Oil

Blood Orange Bundt Cake

Adventures in Cooking

Blood Orange Sangria

How Sweet It Is

Blood Orange Curd

The Tart Tart

Raspberry Blood Orange Cake

Tessa Huff/TheCakeBlog.com

Seared Scallops With Blood Orange Salsa

Confections Of A Foodie Bride

Blood Orange And Raspberry Cheesecake

Sift & Whisk

Moroccan Orange Dessert

Simply Recipes

Blood Orange Sorbet

Annie's Eats

Blood Orange Pound Cake

Bakers Royale

Blood Orange Pie

A Cozy Kitchen

Blood Orange Cake

Beyond Sweet And Savory

Blood Orange Brulee Tart

Le Delicieux
Want to read more from HuffPost Taste? Follow us on Twitter, Facebook, Pinterest and Tumblr.