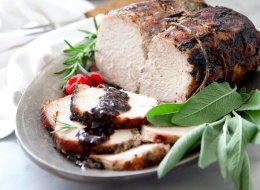 Christmas is right around the corner guys. Like, right around the corner. Next week. We know, it snuck up on us too. Not only does that mean that your Christmas shopping deadline is frighteningly close, but it also means it's time to start thinking about the big dinner.
Since Christmas dinner isn't as stressful as Thanksgiving there is no need to panic, you are in fine shape -- mainly because we have found all the recipes you need for last-minute planning. It also helps that Christmas doesn't demand a traditional line up of recipes like Thanksgiving -- it changes from family to family, and sometimes even year to year -- so we basically just put together the most delicious recipes living on the internet right now for those of you looking for ideas.
Without further ado, here for your holiday planning and enjoyment, is everything you need to create a beautiful Christmas dinner.
Warm Honey Fig Dip With Blue Cheese

How Sweet It Is

Oysters Rockefeller

James Ransom/Food52

Pear And Plum Puff Pastry Tart With Blue Cheese

Foodie Crush

Buttered Mushroom, Sage Pesto And Goat Cheese Sourdough Toast

Half Baked Harvest

Persimmon Bruschetta

Food52

Cheddar Gougères

Quentin Bacon/Food & Wine

Greek Feta, Sun-Dried Tomato And Pistachio Truffles

Half Baked Harvest

Artichoke & Roasted Garlic Dip

Wonky Wonderful

Winter Salad With Maple Candied Walnuts And Balsamic Fig Dressing

Half Baked Harvest

Mussels With Shallots And Beer

Dinner Was Delicious

Brown Sugar Roasted Pork Tenderloin

How Sweet It Is

Pan-Roasted Sea Scallops with Scallop Jus

James Ransom/Food52

Stuffed Pork Chops With Roasted Grapes

Foodie Crush

Tuscan Roast Pork

Emiko/Food52

Duck A L'Orange

Bobby Lin/Food52

Brined And Grilled Pork Loin Roast With Balsamic Raspberry Chili Glaze

Foodie Crush

Salt-Crusted Beef Tenderloin Grilled In Cloth

Food52

Torrisi's Turkey

Mark Weinberg/Food52

Roasted Sweet Potato Risotto

How Sweet It Is

Garlic Goat Cheese Mashed Potatoes

How Sweet It Is

Whole Roasted Cauliflower And Whipped Goat Cheese

James Ransom/Food52

Cheesy Scalloped Potatoes

Foodie Crush

Spinach Gratin

James Ransom/Food52

Cranberry And Brie Cinnamon Sugar Puff Pastry Swirls

Half Baked Harvest
Want to read more from HuffPost Taste? Follow us on Twitter, Facebook, Pinterest and Tumblr.