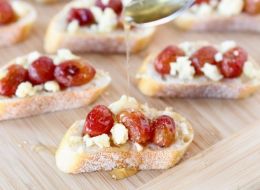 You've been so patient with our desire to eat gigantic, heavy meals lately. Be it Christmas dinner, Christmas brunch or all the cookies and cocktails in between, you've stuck by us. And now, for something completely different.
New Year's Eve is the kind of holiday we like to spend at home. Don't get us wrong -- we want to party. We just want our friends to come over and eat all the snacks we can't keep ourselves from making. Since it's the last meal of the year, we like to eat a few bites of every single thing we can think of. We want to finish the year with a bang. The bang of Champagne corks, of satisfied fists smashing down on the counter to say, "these hors d'oeuvres are SO GOOD." We don't suggest that you make all of these New Year's Eve recipes -- that kind of effort would be Herculean -- but these are a few of the things we'll be cooking up for friends and family to enjoy what we're putting behind us, and get psyched for what we're heading toward. Here are 53 ideas so good you'll never forget the last night you spent in 2014 -- no matter how much Champagne you drink.
Happy new year, everyone!
Beet Hummus

Simply Recipes

Filet Fondue Sliders

How Sweet It Is

Spiced Nuts

Martha Stewart

Grilled Oysters

Simply Recipes

Super Easy Marinated Olives

Alexandra Cooks

Duchess Potatoes

Simply Recipes

Miso Butter Shrimp

Steamy Kitchen

Easy Grilled Parmesan Polenta Chips

Half Baked Harvest

Fig And Blue Cheese Savouries

Food52

Deviled Eggs

TheCurvyCarrot.com

Bruschetta With Ricotta, Honey, Lemon Zest

Food52

Baked Honey Sriracha Wings

Damn Delicious

Chorizo And Cheese Stuffed Mushrooms

A Spicy Perspective

Crispy Kale With Lemon-Yogurt Dip

Frances Janisch

Bite-Sized Baked Brie

Joy The Baker

Serrano Ham And Manchego Croquetas With Smoked Pimenton Aioli

Food52

Savory French Toast Bites With Bacon, Tomato And Cheese

Cookin' Canuck

Cheddar-Jalapeño Cornmeal Biscuits

Completely Delicious

Angels On Horseback

Simply Recipes

Multi-Layered Scallion Pancakes

Food52

Pub Gougères With Anchovy And Cayenne

James Ransom/Food52

Homemade Mini Corn Dogs

A Beautiful Mess

Ricotta With Thyme, Olive Oil And Grilled Bread

Alexandra Cooks

Cardamom-Cheddar Straws

Con Poulos

Crispy Roasted Chickpeas

Steamy Kitchen

Classic Pigs In A Blanket

Damn Delicious

Bacon-Wrapped Apricots Stuffed With Pistachios And Mozzarella

EmilyC/Food52

Roasted Grape, Blue Cheese, And Honey Crostini

Two Peas And Their Pod

Buffalo Cheddar Chex Mix

Half Baked Harvest

Focaccia With Caramelized Onions, Pear And Blue Cheese

Quentin Bacon

Jalapeño Poppers

The Pioneer Woman

Goat Cheese And Chorizo Rolls

Burcu Avsar

Lamb Pizzettes

Kana Okada

Extra Tender Meatballs

James Ransom/Food52

Feta Dip

Pip & Ebby

Smoked Salmon & Cucumber With Caper Yogurt

Cookin' Canuck

Squash Butter Crostini With Blue Cheese, Celery And Bacon

James Ransom/Food52

Prosciutto Wrapped Melon Balls

Bell'Alimento

Sparkly White Chocolate Lemon Truffles

How Sweet It Is

New Years Eve Crack

I Am Baker

Rum Truffles

Bakers Royale

Sparkling Cranberries

The Faux Martha

Chocolate Dipped Marshmallows

Dieter's Downfall

Brandy-Orange New Year's Cake (Vasilopita)

Food52

Double Chocolate Bourbon Balls

Arctic Garden Studio

Champagne Punch

Flat Art Studios

Bourbon Slush

Brown Eyed Baker

Champagne Jello Shots

1 Fine Cookie

Champagne Macarons

Annie's Eats

Rosé Sorbet

How Sweet It Is

Manhattan

Dave Lauridsen

French 75 Cocktail

Frances Janisch

Adrienne Forbes' Hot Toddy

Kristin Perers
Want to read more from HuffPost Taste? Follow us on Twitter, Facebook, Pinterest and Tumblr.