When news of Disney's "first Latina princess" hit the Internet on Thursday, Latinos rejoiced. But advocates of a more diverse set of princesses shouldn't get too excited yet: Elena of Avalor may not really be Latina after all.
Disney announced the latest addition to its princess franchise in a Thursday press release. According to the release, Elena, 16, is a "bold, caring, funny and clever" princess, and will be introduced in a special episode of Disney Junior's TV series "Sofia The First" in 2016. The character will be voiced by Dominican-born actress Aimee Carrero, of ABC's "Young & Hungry."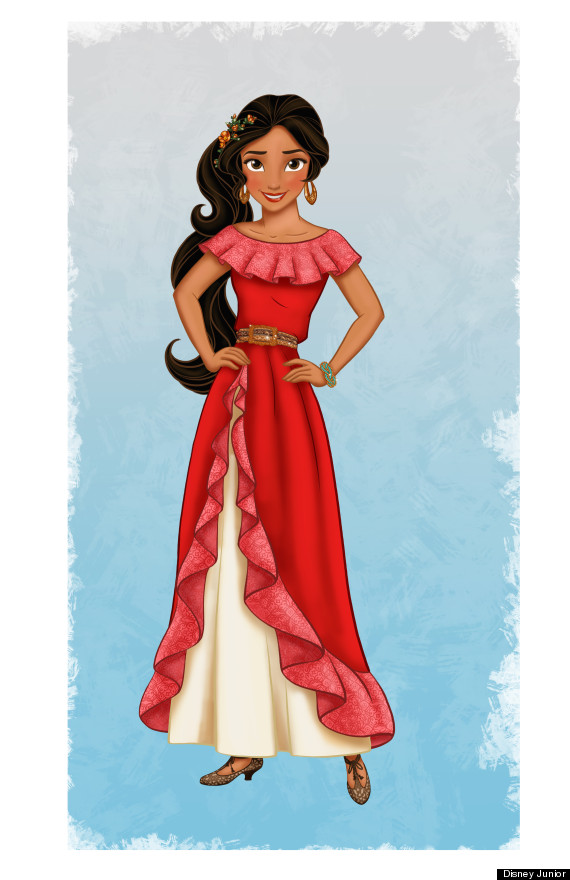 The description is reminiscent of Disney's response to previous questions about whether "Sofia The First" would be the company's first Latina princess. In 2012, a blogger asked Jamie Mitchell, the show's executive producer, why Sofia's mother had a darker complexion than the other characters. Mitchell responded, "She's Latina."
The statement caused an uproar, with many arguing that Sofia did not resemble the majority of the Latino population, with her blue eyes, fair skin and light hair. A debate ensued about whether Princess Sofia was "Hispanic enough."
What's important to know is that Sofia is a fairytale girl who lives in a fairytale world. All our characters come from fantasy lands that may reflect elements of various cultures and ethnicities but none are meant to specifically represent those real world cultures. The writers have wisely chosen to write stories that include elements that will be familiar and relatable to kids from many different backgrounds including Spain and Latin America. For example, Sofia's mom comes from a fictitious land, Galdiz, which was inspired by Spain [...] this creates a world of diversity and inclusion that sends just the right kind of message to all children -- "Look around you, appreciate the differences you see and celebrate what makes us all the same." I am eager for you and your children to meet Sofia and experience her world together!
Kanter's statement indicates that Princess Elena would also not technically be Latina.
The Huffington Post reached out to Disney Junior for clarification about Princess Elena's heritage, and received the following statement in response: "We don't have further comment beyond what's in today's announcement. As soon as the animation is ready, we'll screen it for you."
Fans have been waiting for a long time for the first Latina princess, especially after Disney presented the first African-American princess, Tiana, in the 2009 animated feature "The Princess and the Frog." Whether or not Elena is technically Latina, she is the closest the company has come to having a princess that represents the Latino community.
"Our creative team has delivered a universal story with themes that authentically reflect the hopes and dreams of our diverse audience," Kanter said in a statement included in Thursday's release. "What excites us most is the chance to use distinctive animation and visual design to tell wonderful stories influenced by culture and traditions that are familiar to the worldwide population of Hispanic and Latino families and reflect the interests and aspirations of all children as told through a classic fairy tale."
Earlier on HuffPost:
Indian Brides As Disney Princesses
FOLLOW HUFFPOST