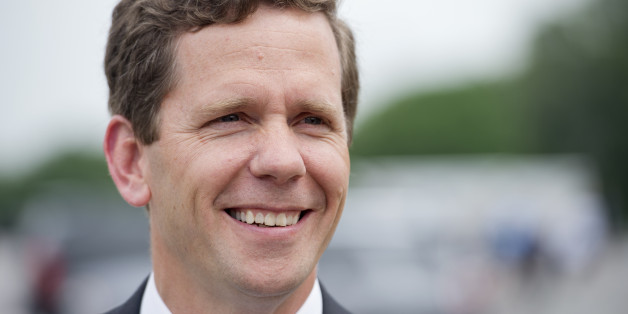 WASHINGTON -- House Democrats picked up another GOP co-sponsor of legislation to repeal the Defense of Marriage Act, the federal law that gives states the right to disregard same-sex marriages performed in other states.
Rep. Robert Dold (R-Ill.) on Monday became the third Republican to sign on to the bill, called the Respect for Marriage Act. Freedom to Marry, a campaign focused on ending federal marriage discrimination, announced the news.
"A majority of Republicans under 50 and a supermajority of Republicans under 30 support the freedom to marry -- alongside a majority of Independents and a supermajority of the American people," said Evan Wolfson, the group's president. "Congressman Dold is doing the right thing for his party, as well as for families and the American people."
A request for comment from Dold's office was not returned.
The Supreme Court last year struck down the portion of DOMA that barred the federal government from recognizing same-sex marriages. But because the rest of the law is still in effect, states are not required to recognize same-sex marriages legally performed in other states. Same-sex marriage is now legal in 36 states and in the District of Columbia. The remaining 14 states have explicitly banned it.
The Respect for Marriage Act, introduced last month, would repeal DOMA in its entirety. If the repeal becomes law, all legally married same-sex couples would have access to federal marriage benefits, even if they move to states that prohibit gay marriage. The repeal would not require states to pass marriage equality laws; it would only require that legally married same-sex couples living in those states receive the same federal benefits as other married couples.
The House bill has roughly 126 co-sponsors but only three of those are Republicans. In addition to Dold, Reps. Ileana Ros-Lehtinen (R-Fla.) and Richard Hanna (R-N.Y.) are on the bill. The Senate version of the bill has no Republican co-sponsors.
The Supreme Court may resolve the legal debate over same-sex marriage in June, when the justices are expected to rule in four cases from Michigan, Ohio, Kentucky and Tennessee. The court's 2013 decision forced the federal government to recognize same-sex marriages carried out in states, but the forthcoming ruling will likely determine whether gay and lesbian couples have a constitutional right to marry. If the court decides that they do, states would be required both to allow same-sex couples to marry and to recognize same-sex marriages performed in other states.
Also on HuffPost:
10 Incredible Improvements For LGBT People Since The First State Legalized Gay Marriage
SUBSCRIBE AND FOLLOW
Get top stories and blog posts emailed to me each day. Newsletters may offer personalized content or advertisements.
Learn more