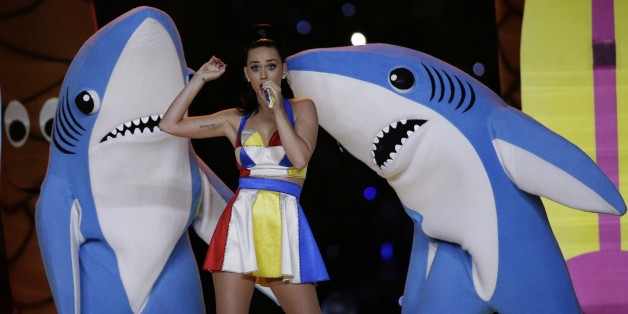 Katy Perry blew everyone's minds on Sunday night during the Pepsi Super Bowl Halftime Show. There was a giant robotic jungle cat, dancing chess pieces, Missy Elliott, Lenny Kravitz and Perry soaring across the stadium. But we've all agreed on the one true highlight: those dancing sharks. The big question remained: Who are they?
Myrick revealed that being a shark wasn't the craziest thing he's ever done with Perry. Besides also being a horse chest piece during the "Dark Horse" performance, he said, "I danced as a gingerbread man in her first tour the California Dreams tour. And also her big purple cat, Kitty Purry." But being a talking, dancing shark is no easy feat. Myrick said the costume's visibility was so bad that he ran into a palm tree on stage.
And that everyone, is what it feels like to have your heart explode. I've never been more proud to be a part of something in my life.
Tonight was a feeling and moment in time that I will never, ever forget. Thank you for all the support everyone. ❤️🐬
Thanks be to Jesus, aka @katyperry for this shark takeover. You called it gurllllll 🐬
Related on HuffPost:
Katy Perry's Super Bowl Halftime Show
SUBSCRIBE AND FOLLOW
Get top stories and blog posts emailed to me each day. Newsletters may offer personalized content or advertisements.
Learn more