Barley Recipes That Will Make You Love This Unsexy Grain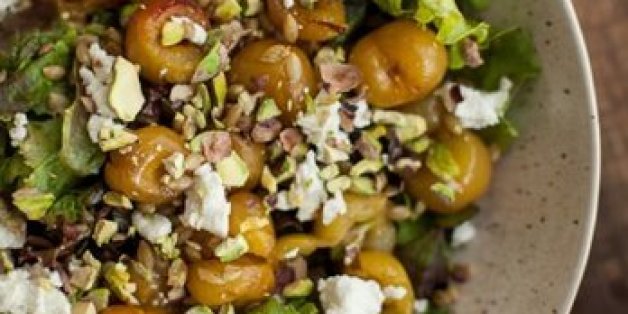 Natually Ella
Barley isn't the most sexy grain, but who wants a sexy grain anyway? In the height of winter especially, we want a grain that will warm us like a very unsexy snuggy and nourish us like an even unsexier cup of Jewish penicillin. Barley is wholesome, and we like it that way.
Barley is also incredibly versatile. Beer isn't the only thing this grain has going for it. It holds up well in soups and adds a nice texture and heartiness to salads. Barley also makes a perfect substitute for rice or risottos in most dishes, offering a pleasant nutty flavor. Did we mention it's also incredibly healthy, too? It's even been called a superfood. This is a grain you could take home to meet the parents.
Here are 19 recipes that will convince you to give barley a chance this winter, and then some.
1

Radish And Pecan Grain Salad

Food52

Two Peas And Their Pod

3

Barley And Grilled-Vegetable Salad

Con Poulos/Food&Wine

4

Creamy Barley With Tomatoes And Spinach

Kitchen Trial & Error

5

Grilled Corn And Barley Salad With Tomato Vinaigrette

Food52

6

Roast Tomatoes, Onion And Pearl Barley Soup

Karolina Grochalska

7

Turkey Soup With Lemon And Barley

Simply Recipes

TASTE

9

Barley, Smoked Paprika Red Potatoes And Hard Boiled Egg

Naturally Ella

10

Pearled Barley Salad With Apples, Pomegranate Seeds And Pine Nuts

Tina Rupp/Food&Wine

11

Black Bean And Pearl Barley Burgers

Angry Asian Creations

12

Roasted Cherry, Barley, And Goat Cheese Salad

Naturally Ella

13

Beef And Barley Stew With Mushrooms

Simply Recipes

The Clever Carrot

15

Cauliflower And Barley Salad With Toasted Almonds

The Spice Garden

16

End-Of-Summer Barley Salad

Running To The Kitchen

17

Moroccan Chickpea Barley Salad

Simply Recipes

18

Barley Risotto With Roast Pumpkin And Beets

Senses in the Kitchen

19

Sesame Roasted Turnips With Barley

Naturally Ella
Want to read more from HuffPost Taste? Follow us on Twitter, Facebook, Pinterest and Tumblr.