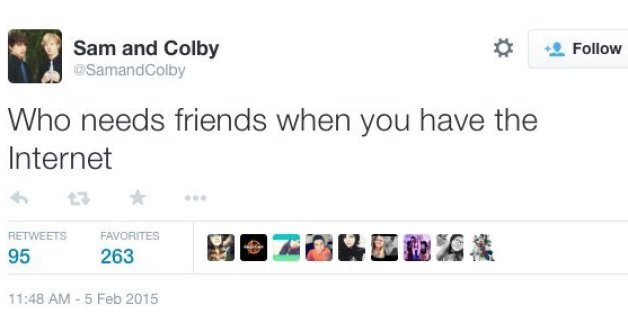 Every week, we round up the best 140-character quips and insights from our esteemed blogging team -- and other equally awesome teen tweeters. Scroll down to read the latest batch and share your own suggestions by following @HuffPostTeen!
friends that have ugly photos of you are the friends you keep so they don't get leaked.
I would be that person to bring a bag of goldfish during a fire drill oops
Cher and Josh from clueless are relationship goals
the line at chipotle was too long so I left and I'm still heartbroken
i always have to mentally prepare myself before calling my mother back after several missed calls.
The only good thing about being sick is that I can watch Fresh Prince of Bel-Air all morning and not have to stop .
My puppy is cuter then you so be gone 👋
I wonder if troy and gabriella actually stayed together through college and forever
I haven't slept yet but at least I have muffins
Who needs friends when you have the Internet
where one direction at tho
you haven't experienced pain until you confidently sing the wrong lyrics to a song out loud
A little girl just came up to me in the store,hugged my leg&called me mom?Then she realized I wasn't her mom&the face she made was priceless
i will never forgive netflix for taking that so raven off of their library in 2013. you might as well have taken my heart with it as well.
SUBSCRIBE AND FOLLOW
Get top stories and blog posts emailed to me each day. Newsletters may offer personalized content or advertisements.
Learn more