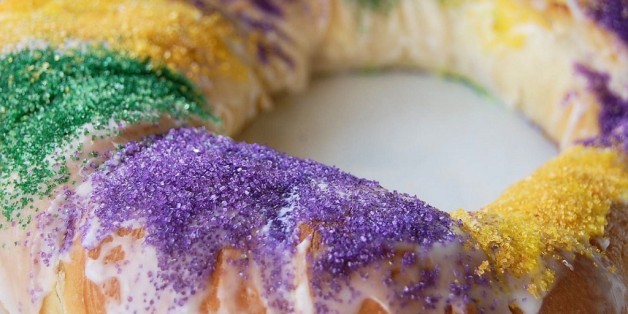 King cake may look kind of gross, and it may taste kind of gross, but Mardi Gras is almost here, so put your true feelings aside and get festive with your very own dessert with a baby in it. If you're scratching your head right now, king cake is a Mardi Gras tradition that's often more festive than it is tasty. More specifically, it's a frosted, bready cake eaten between January 6, or King's Day, and Fat Tuesday. According to tradition, a little plastic baby is put inside the cake, and the lucky person who lands the piece with the baby is supposed to provide the king cake next year.
While it may not be the most fun you'll have when celebrating Mardi Gras, anticipating who will find the baby brings an element of excitement to this dessert that is, admittedly, lacking in some departments. Let's face it. Unless it's prepared really well, king cake is not overwhelmingly attractive. The bright colors tend to look discouragingly artificial, and if sprinkles are involved, they run the risk of looking like mold. (Don't believe us? Do a Google image search.)
Worse than the cake's less-than-attractive tendencies is the fact that it doesn't always taste so great. A king cake that isn't dry is about as hard to come by as the baby inside the cake -- or even harder. Let's put it this way, in the world of cakes, king cake might be one of our last choices, coming in just before, perhaps, rice cakes. In the world of desserts from New Orleans, king cake can't hold a candle to beignets.
With that said, there's no reason that you shouldn't disprove all negative assumptions about king cake and make your own amazing one. Fat Tuesday is around the corner, so here are 9 king cake recipes that will restore your faith in this classic dessert.
SUBSCRIBE AND FOLLOW
Get top stories and blog posts emailed to me each day. Newsletters may offer personalized content or advertisements.
Learn more