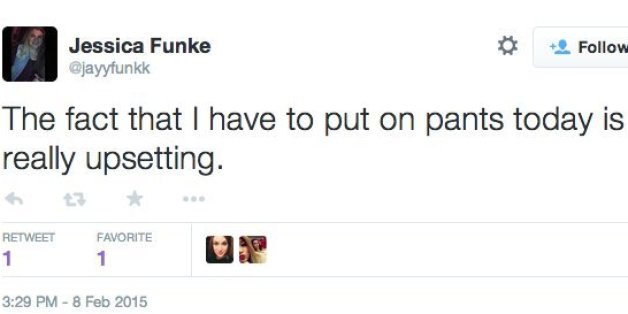 Every week, we round up the best 140-character quips and insights from our esteemed blogging team -- and other equally awesome teen tweeters. Scroll down to read the latest batch and share your own suggestions by following @HuffPostTeen!
So apparently it's national let's run stop signs and ignore right of way day😊
Just witnessed a grown man going to work on a scooter. Legend.
The fact that I have to put on pants today is really upsetting.
mom: do you like the fake stain on the window in the bathroom

mom: then make it tumblr like hang some Polaroids or something
50 shades of I'm done with life
5 AM meets olivia. hahahah
haha
ha
Some people license pictures look more like mugshots than pictures 😂
I just played Magical Barbie by myself don't even judge me
I will forever dread the dentist, worst favorite place in the history of the world
No school tomorrow Drake dropped his mixtape
ITS SO UNFAIR WHEN YOU LOVE SINGING BUT YOU WERENT BORN WITH A GOOD VOICE
My chemistry teacher signs autographs at comic cons for his comics. His double life.
SUBSCRIBE AND FOLLOW
Get top stories and blog posts emailed to me each day. Newsletters may offer personalized content or advertisements.
Learn more