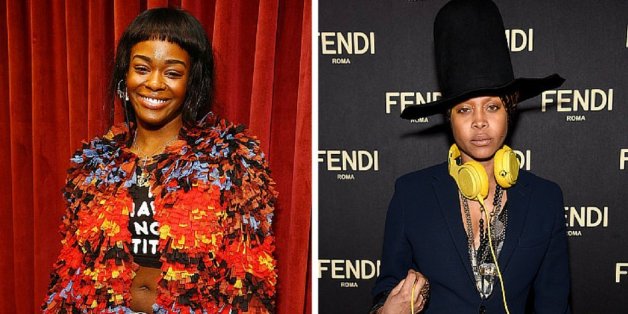 There wasn't much love between Azealia Banks and Erykah Badu this Valentine's Day.
On Thursday, a Twitter fan asked Badu if she listens to Banks' music, to which Badu replied with one word: "tried." That was enough to ignite a feud with Banks, who called Badu "jealous" and "old" in a series of tweets directed at the R&B singer on Saturday.
When artists grow old and begin to recognize their own mortality they throw shade at younger spirits
The 43-year-old Badu, who has five studio albums and four Grammy wins to her name, responded shortly after.
@fatbellybella I'm cool, I was just trying to make sure you were cool.... ✌️
Another Twitter user noticed that Badu turned on her geolocation to show that she was tweeting from Queens, New York. Banks, a Harlem native, decided to make things personal.
Hours later, Badu responded with a meme, before telling Banks she was joking and to "be careful."
@fatbellybella you have to shave your underarms before you try and come for me.
@fatbellybella el oh el. Just kidding. Happy v day. Keep greasing that scalp mama. ✌️
Banks continued the fight on Sunday...
Lol that ol lady went out of her way throw shade at me, turned on her location... But when I asked for the address ... There was no answer 😳
Lol I think it was very childish of her to try and insinuate that I should show up and fight her... Like.. How old are you?
Where's the address tho? LOL
People are seriously intimidated by my talent and honesty.
Don't be jealousss ......
And if you are gonna be jealous.... Just please, stay out of my way.
SUBSCRIBE AND FOLLOW
Get top stories and blog posts emailed to me each day. Newsletters may offer personalized content or advertisements.
Learn more