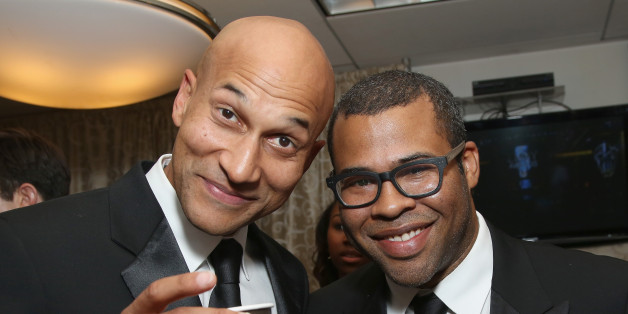 The wigs on "Key and Peele" are the hardest-working hairpieces in show business. Individually made, using pots of hair clearly labelled—"Short Black/Brown, Human," "Long Black, Human"—they are destined for the heads of a dazzling array of characters: old white sportscasters and young Arab gym posers; rival Albanian/Macedonian restaurateurs; a couple of trash-talking, churchgoing, African-American ladies; and the President of the United States, to name a few. Between them, Keegan-Michael Key and Jordan Peele play all of these people, and more, on their hit Comedy Central sketch show, now in its fourth season. (They are also the show's main writers and executive producers.) They eschew the haphazard whatever's-in-the-costume-box approach—enshrined by Monty Python and still operating on "Saturday Night Live"—in favor of a sleek, cinematic style. There are no fudged lines, crimes against drag, wobbling sets, or corpsing. False mustaches do not hang limply: a strain of yak hair lends them body and shape. Editing is a three-month process, if not longer. Subjects are satirized by way of precise imitation—you laugh harder because it looks like the real thing. On one occasion, a black actress, a guest star on the show, followed Key into his trailer, convinced that his wig was his actual hair. (Key—to steal a phrase from Nabokov—is "ideally bald.") "And she wouldn't leave until she saw me take my hair off, because she thought that I and all the other guest stars were fucking with her," he recalled. "She's, like, 'Man, that is your hair. That's your hair. You got it done in the back like your mama would do.' I said, 'I promise you this is glued to my head.' And she was squealing with delight. She was going, 'Oh! This is crazy! This is crazy!' She just couldn't believe it." Call it method comedy.
SUBSCRIBE AND FOLLOW
Get top stories and blog posts emailed to me each day. Newsletters may offer personalized content or advertisements.
Learn more