"It appeared to pass directly over my house," Dave Woodcox, a resident of Greensburg, Pa., commented on the society's website on Tuesday. "It was traveling slightly east of due north. It was very bright with a tail about one-fourth of the sky from the south to the north. The object was orange/yellow in hue, but the tail was white and was the brightest part."
(Story continues below map.)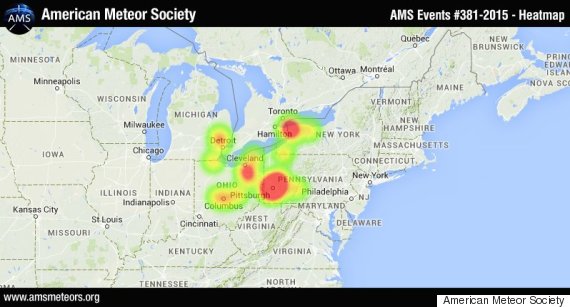 A heat map showing where witnesses reported seeing the fireball on Tuesday.
Three people in Pittsburgh said they heard a booming sound after seeing the fireball, according to the society.
The fireball flared brighter than the full moon and moved almost due east at a speed of 45,000 miles per hour, NASA said. The space agency also noted that, according to the space rock's orbit, it likely traveled to Earth from the main asteroid belt between Mars and Jupiter.
SUBSCRIBE AND FOLLOW
Get top stories and blog posts emailed to me each day. Newsletters may offer personalized content or advertisements.
Learn more