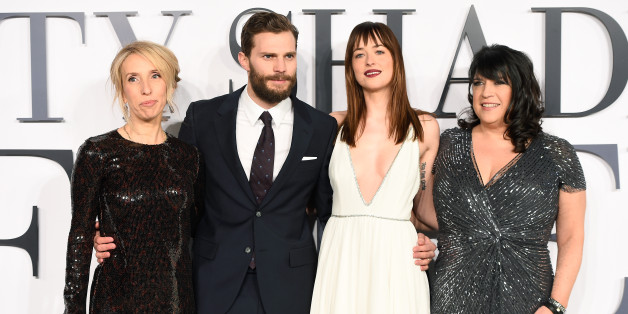 It was reported a few days ago that Taylor-Johnson was pulling out of the sequel, specifically due to her fraught relationship with James. Sources tell Variety that both Taylor-Johnson and the first movie's screenwriter, Kelly Marcel, are not expected to return.
Even if the writer and director of "Fifty Shades Darker" aren't tied down yet, Dakota Johnson and Jamie Dornan are. They are contractually handcuffed to the sequels, even if the Internet speculates about whether they even get along. The rest of the cast, on the other hand, may technically be more of a question mark. Eloise Mumford, who played Anastasia's roommate, gave a coy, "We'll see," when E! News asked about further involvement at a pre-Oscar party earlier this week.
Whatever happens, the next movie will be huge. "Fifty Shades of Grey" roped in more than $100 million after less than a week in theaters, and it is expected to top the box office again this weekend. Johnson will also present at the Oscars on Sunday and host "Saturday Night Live" on Feb. 28.
Related on HuffPost:
50 Perfect Reactions To '50 Shades' Trailer
SUBSCRIBE AND FOLLOW
Get top stories and blog posts emailed to me each day. Newsletters may offer personalized content or advertisements.
Learn more