The recent Oscar nominations resurfaced Hollywood's diversity issues when The Academy announced all-white ballots for the acting categories. The only Latinos nominated for major categories were "Birdman" director Alejandro Gonzalez Iñárritu and cinematographer Emmanuel Lubezki.
This is a pattern that has repeated itself throughout Oscar history. In 87 years only one Latino actor, José Ferrer, has won the Oscar for Best Actor and no Latina has ever won the Best Actress award. There has been only slightly more success within other acting categories. Mexican actor Anthony Quinn won in 1952 and 1956 for Best Supporting Actor for his roles in "Viva Zapata!" and "Lust For Life," respectively, becoming the only Latino actor to ever win two Oscars.
Rita Moreno was the only Latina to take home the Oscar for Best Supporting Actress, until Mercedes Ruehl also won the award 30 years later. Moreno is also now one of the only twelve people in the world (and the only Latino star) to have won an Emmy, a Grammy, an Oscar and a Tony.
In the major non-acting categories, Latino representation has also been lacking. Mexican director Alfonso Cuarón was the first Latino to win in this category in 2014 for "Gravity." This year "Birdman" director Alejandro González Iñárritu might make history by being the second Latino to win the Oscar for best director.
Mexican cinematographer Emmanuel Lubezki ("Children of Men," "Gravity") is currently the most nominated Latino for the Oscars in a major category. Lubezki has been nominated a total of 7 times, out of which he only took home one golden statuette in 2014 for "Gravity."
Check out a brief look at the history of Latinos at the Oscars in the infographic below: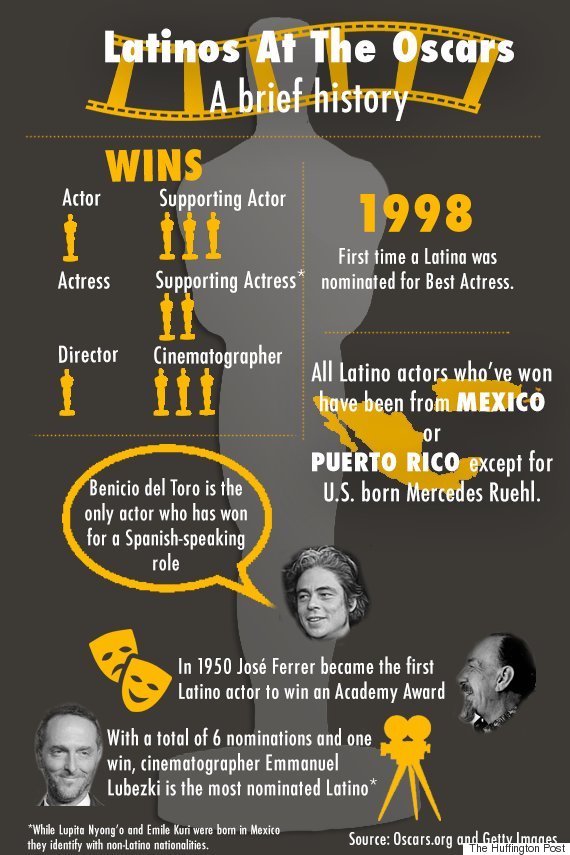 SUBSCRIBE AND FOLLOW
Get top stories and blog posts emailed to me each day. Newsletters may offer personalized content or advertisements.
Learn more