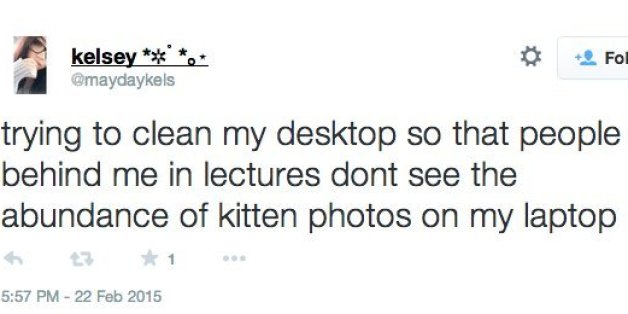 Every week, we round up the best 140-character quips and insights from our esteemed blogging team -- and other equally awesome teen tweeters. Scroll down to read the latest batch and share your own suggestions by following @HuffPostTeen!
I honestly didn't even mean to order fries it just came out of my mouth at the drive thru they were an accident
I like the weather but my hair doesn't.
My head hurts and immediately I think to Greys Anatomy and see which cases had this same symptom so I can diagnose myself
Eating tacos you wish you were me
Don't you hate it when you comfortable in bed and then YOUR MOM CALLS YOU AND RUINS EVERYTHING
Just tried to fry an egg. There were flames involved. Won't be doing that again, then...
trying to clean my desktop so that people behind me in lectures dont see the abundance of kitten photos on my laptop
A Little Girl Just Asked Me If I Was Willow Smith I Humbly Said Yes And Took A Selfie.
That awkward moment when you've already said "what?" three times and still have no idea what the person said
"Is that a prison?"-me
"No. It's a middle school."-my mom
"Is there even a difference?"-me
I dropped my phone one too many times and now it's trippin, it's like typing what ever it wants...I've been typing this since last night😂
Annoyed cos Kylie Jenner is 17 and buying herself a $2.7 million house and I'm 18 and can barely afford chipotle
SUBSCRIBE AND FOLLOW
Get top stories and blog posts emailed to me each day. Newsletters may offer personalized content or advertisements.
Learn more