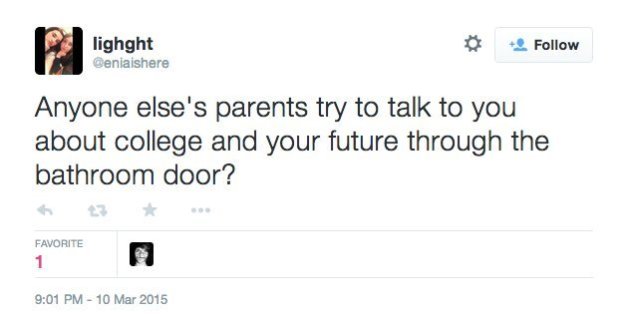 Every week, we round up the best 140-character quips and insights from our esteemed blogging team -- and other equally awesome teen tweeters. Scroll down to read the latest batch and share your own suggestions by following @HuffPostTeen!
Finally. The temp is no longer colder than my heart
Anyone else's parents try to talk to you about college and your future through the bathroom door?
the depressing thing about tennis is that no matter how good I get, I'll never be as good as a wall
Nothing like crying over Harry Potter on my way to school
SOS sitting in a bathroom stall at my school scared to leave bc some girl is putting on makeup and taking mirror selfies......
Are u even a real high schooler if u don't wait until Sunday night to start your homework
nothing is worse than ordering take out food and UR SO EXCITED UR MOUTH WATERS THINKING ABOUT IT and then bam. it gets here. 2 tiny shrimps.
Why can I hula hoop for hours without stopping but I can't dance like a human for my life?
spring break!!!!! senior year!!!! time to get wild!!!!!!! *looks down at the 2 cats in my lap* isn't that right guys!!??
The only way to motivate me is if you offer me:
1) food
2) Louis Tomlinson
*goes to a yoga class*
*gets sore next day*
*never works out again*
SUBSCRIBE TO & FOLLOW LIFESTYLE
HuffPost Lifestyle is a daily newsletter that will make you happier and healthier — one email at a time. Learn more