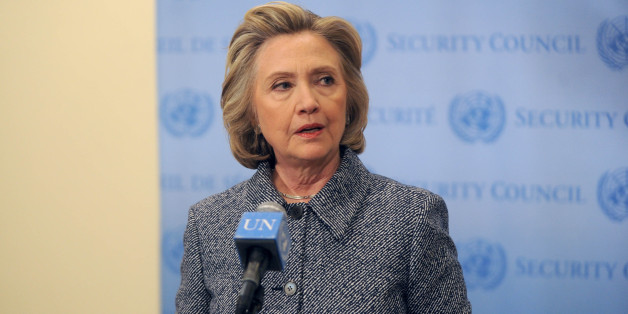 While Clinton was Secretary of State, from 2009 to early 2013, the view that the press was out to get her subsided. But since she left that office -- and its nonpartisan glow -- behind, the percentage of Democrats who see the press as being too harsh in covering Clinton has risen from 23 percent in 2013 to 54 percent in June 2014. Just 9 percent thought the media was easier on Clinton than on the average politician, according to that June poll. This 45 percentage point gap between "harder" and "easier" is similar to how Republicans felt about the press and Republican politicians, according to YouGov polls during the first half of 2014.
Democrats around the country had a clear and stern message for Hillary Clinton on Tuesday after she wrapped up her much-anticipated -- if hastily scheduled -- news conference on her use of a private email account as secretary of state: She shouldn't expect this issue to go away in the coming months, and she'd better hurry up and announce her presidential campaign soon.

"The whole situation underscores the need for her to announce her candidacy, as an actual campaign would be the best way to deal with issues like this if they come up," said Kathy Winter, chairwoman of Iowa's Osceola County Democrats.
RINO election strategies failed in 2008 and 2012. What critical constituencies do the McConnell-Boehner led GOP congressional majorities persuade or excite? Where are congressional Republicans advancing better approaches to the nation's challenges? Boehner and McConnell capitulations on critical issues don't exactly motive base conservatives or make Republicans standout.

An establishment Republican nominee has dim chances of winning the White House in 2016 unless Hillary manages to gain the Democratic nomination. Hillary won't be the Democratic nominee; the left is making sure of it.
Though members of Congress are calling for her to turn over the email server for forensic examination, they would be wise to proceed cautiously. A key page in the Clinton rule book is the one that reads: When in doubt, drive your enemies crazy -- then sit back and watch them implode.
Let's try something new: maintain message discipline, hold focus and keep an eye on a bigger objective than your daily press release, social media hits or email fundraising drops. This is about her, not us, so unless GOP elected and opinion leaders are smart and subtle, and execute with the right timing and tone, she wins. Try for once to play the long game and help Hillary Clinton take on water.
The risk that foreign governments and superrich foreign citizens might donate to the foundation as a way of currying favor with the Secretary of State worried both Democrats and Republicans on the Senate Foreign Relations Committee when Hillary Clinton was first named Obama's top diplomat. And while the White House forced the foundation to sign a point-by-point agreement in 2008 about what it could and could not do while Hillary Clinton ran the State Department, there really is no separating the globe-trotting Clintons from the heady atmosphere of money and influence.
The fact of the matter is that operating in secret is the preferred method of operation for too many elected officials on both aides of the aisle. The Obama administration has become notorious for its foot-dragging and reluctance to operate under public scrutiny. And while Walker has been better than many when it comes to openness and in responding to the media, the secret email system and his unwillingness in recent weeks to directly answer some questions, still leaves a bad taste. Just as Clinton's practice does.

So, come 2016, I really would like to see a debate on openness in government between whoever wins the nominations. I'd like to hear about their commitment to the concept and what they would do to achieve more openness. And why secret email systems hurt democracy.
But the stupidest person in all of this whole mess is Hillary Clinton, who –- when she set up her private email address in 2009, just after leaving the Senate and just before heading into her confirmation hearing as Secretary of State -– had already weathered approximately 20 years and infinite variations on this exact stupidity about her supposedly letter-but-not spirit-of-the-law behavior and public transparency and yet set up a private email address and used it for work email anyway.
SUBSCRIBE TO & FOLLOW TRUMP'S FIRST 100 DAYS
How will Donald Trump's first 100 days impact YOU? Subscribe, choose the community that you most identify with or want to learn more about and we'll send you the news that matters most once a week throughout Trump's first 100 days in office. Learn more