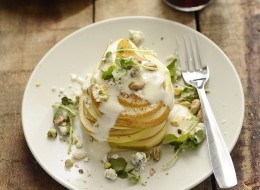 Blue cheese is understandably polarizing. It's strong, stinky and to the uninitiated, can be visually off-putting. If you haven't taken your chances with blue cheese yet, you're selling yourself short. Whether it's Roquefort, Gorgonzola or Stilton, blue cheese is like a beautiful, deep well of flavors and nuance. Once you've tried some of the good stuff, you'll come around to appreciate its full glory. Trust us.
If you're skeptical, start small. Add blue cheese to spicy recipes, where the creamy cheese will cut through the heat and bring your mouth to a whole new place. Or, try it alongside sweeter ingredients like figs or pears. The sweet will mellow out the harsh taste of the cheese, and make you appreciate both qualities even more. Once you start experimenting with blue cheese, you'll be craving this pungent block of dairy in no time.
If you're already a full-blown blue cheese-lover and all of this is old news to you, help your friends come over to the blue side. You can always use more fans.
With the right blue cheese recipes, you can find a way to eat this cheese for breakfast, lunch, dinner and even dessert. Consider your prayers answered -- and get cooking with the recipes below.
Fresh Fig, Bacon And Blue Cheese Pizza

How Sweet It Is

Roasted Grape, Blue Cheese, And Honey Crostini

Two Peas And Their Pod

Pear Soup With Pancetta And Blue Cheese

James Ransom/Food52

Pear Roquefort Salad

Verses From My Kitchen

Blue Cheese Mac And Cheese

How Sweet It Is

Buffalo Falafel And Garlic Blue Cheese Fry Pita's With Ranch Style Tzatziki

Half Baked Harvest

Buttermilk Bacon Blue Smashed Potatoes

How Sweet It Is

Cobb Grilled Cheese

Foodiecrush

Bacon And Blue Cheese Butter

Steamy Kitchen

Buffalo Roasted Cauliflower Skillet Pizza With Chipotle Blue Cheese Avocado Drizzle

Half Baked Harvest

Seared Chicken Cutlets With Blue Cheese, Figs And Parsley

Bev Cooks

Blue Cheese Biscuits

How Sweet It Is

Buffalo Shrimp Tostadas

Bev Cooks

Classic Blue Cheese Wedge Salad

Foodiecrush

Buffalo Chicken Quinoa Bites With Greek Yogurt Blue Cheese Dip

Damn Delicious

Fig And Blue Cheese Tart With Honey, Balsamic, And Rosemary

Food52

Whole Wheat BBQ Shrimp Flatbreads

How Sweet It Is

Jameson Whiskey Blue Cheese Burger With Guinness Cheese Sauce And Crispy Onions

Half Baked Harvest

Savory Apple And Blue Cheese Tart

HealthyDelicious

Buffalo Chicken Pull-Apart Bread

Bev Cooks

Blue Cheese Mussels With Bacon

A Spicy Perspective

Delta Blues Pizza

Macheesmo

Crostini with Peaches, Blue Cheese and Honey

Bev Cooks

3-Ingredient Blue Cheese Appetizer

Half Baked Harvest

Figs With Blue Cheese And Honey

Macheesmo

Blue Cheese Bacaon Macaroni And Cheese

Gimme Some Oven

Curried Sweet Potato Rounds With Honeyed Walnuts, Cranberries And Blue Cheese

Half Baked Harvest

Green Bean Mushroom Tart

A Spicy Perspective

Herb Gorgonzola Artichokes

How Sweet It Is

Grilled Pizza With Figs, Prosciutto And Gorgonzola

Cooking with Michele

Fig And Blue Cheese Savouries

Food52

Bacon And Blue Cheeseburger Potato Skins

How Sweet It Is
Want to read more from HuffPost Taste? Follow us on Twitter, Facebook, Pinterest and Tumblr.