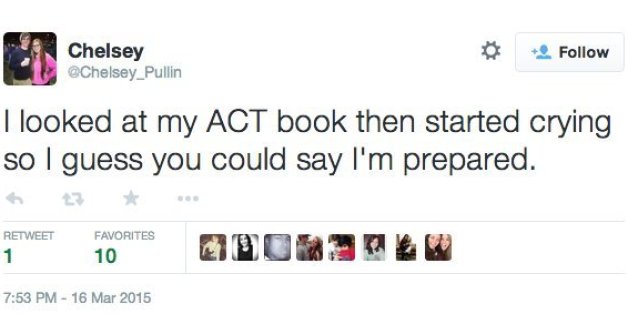 Every week, we round up the best 140-character quips and insights from our esteemed blogging team -- and other equally awesome teen tweeters. Scroll down to read the latest batch and share your own suggestions by following @HuffPostTeen!
am I in the process of getting attractive or am I stuck like this forever
OMG i love thinking about what i'll say through a ouija board after I die
I'm so ready for summer but my body isn't
I was going to go workout but I must have made a wrong turn somewhere because I somehow ended up at Chipotle
Went driving for the first time and hit a fence, ran over 2 shrubs, and almost hit a cat. #JesusTakeTheWheel
Me: "I'm finally fully embracing myself as goth!"
Mom: "Don't."
"Have you ever been personally victimized by Justin Bieber saying he was going to release new music and he didn't?" pic.twitter.com/WEbCTl4AMz
I looked at my ACT book then started crying so I guess you could say I'm prepared.
I come in late and go to the attendance office and the lady says "wow you look as bad as I do are you sick too?" Actually Im fine but thanks
SUBSCRIBE TO & FOLLOW LIFESTYLE
HuffPost Lifestyle is a daily newsletter that will make you happier and healthier — one email at a time. Learn more