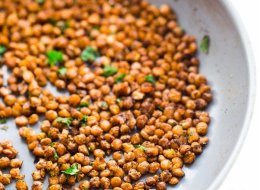 Do you ever wish more foods were reliably cheap, healthy and tasty? Good news -- lentils are all three. Overlooked by many a supermarket shopper, protein-rich lentils are faster than other types of dried legumes to prepare, and they easily absorb your favorite flavors from other foods and seasonings. As a result, you can never really run out of ways to make them.
If lentils aren't a staple ingredient in your pantry, they're about to be. We've put together some incredible lentil recipes to get you started, from salads to stews and everything in between. Twenty-five of them to be exact. Get started.
Amaranth Cakes With Lentils, Kale And Chipotle Aioli

Feasting at Home

Skillet-Popped Lentils

Healthy Happy Life

Lentil And Basmati Salad With Tamarind, Coconut And Cilantro

Mark Weinberg/Food52

Mejadra

The View From The Great Island

Lentils With Garden Vegetables, Avocado, Walnuts And Hummus

Bev Cooks

Slow Cooker Red Lentil Dal

Cafe Johnsonia

Buffalo Lentil 'Meatball' Sandwich

Naturally Ella

Beet Braised Lentils

Feasting at Home

Zucchini Spaghetti With Lentil Marinara

Lemons and Basil

French Lentils With Roasted Root Vegetables

Bev Cooks

Shepherd's Pie (Vegan)

Minimalist Baker

Spaghetti And No-Meatballs

Healthy Happy Life

Chipotle Lentil Tacos

Naturally Ella

Cheat's Lentil Soup

The Clever Carrot

Vegetarian Lentil Sloppy Joes

Lemons And Basil

Green Lentil Soup With Curried Brown Butter

Bobbi Lin/Food52

Coconut Lentil Soup With Lemongrass

Cafe Johnsonia

Mushroom-Lentil Tacos With Tahini Yogurt Sauce

James Ransom/Food52

Warm Ginger Curried Lentil Dip

Healthy Happy Life

Harissa Lentils and Cauliflower

Naturally Ella

Lentil Meatballs With Indian Fenugreek Sauce

Feasting at Home

Spicy Black Bean And Lentil Chili With Cotija Guacamole

Half Baked Harvest

BBQ Blue Cheese Lentil 'Meat'balls

Naturally Ella

Ginger Peanut Lentil Burger

Hummusapien

Crispy Berbere Chicken with Ethiopian Lentils

Feasting at Home
Want to read more from HuffPost Taste? Follow us on Twitter, Facebook, Pinterest and Tumblr.