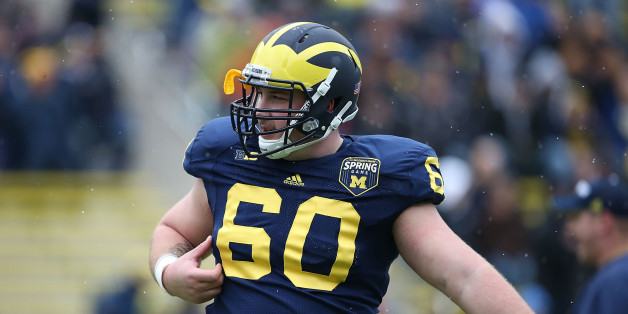 UPDATE -- March 27: After an interview with ESPN published earlier this week, former Michigan center Jack Miller has clarified that he did not leave the school's football program over head injury concerns.
"I know it makes for a good headline," he said. "I thought about the concussion thing as much as I thought about the fact I have back pain every day. (The story) has blown up into this whole thing, because there's not a lot going on in college football right now."
now says the decision was made due to growing health concerns related to the nature of the sport.
Miller, who would've been entering his senior season as a starting center, said he knows he's already had a few concussions while playing for the Wolverines.
"It's nice walking away before things could've gotten worse," he said, adding later: "I'd be lying if I said that the concussion thing doesn't scare me a little."
Miller said last week that he was leaving the team. However, he did not specify at the time that it was because of head injury and the possible long-term trauma it could cause. Instead, he said he was simply ready to move on and that "football has just run its course for me."
...it's time for me to move on.

All of my goals have been accomplished here. I was able to receive a top-notch education while playing football at the highest possible level.

Because of that, my passion for the game has diminished. I know that you won't succeed in this game without a burning passion for it.
Since Borland announced he was leaving the NFL after just one season, he has warned of the dangers of the sport.
SUBSCRIBE TO & FOLLOW THE MORNING EMAIL
The Morning Email helps you start your workday with everything you need to know: breaking news, entertainment and a dash of fun. Learn more