A man's home is his phallus, er, palace.
The home, officially named "Sherwin House" but called "Penis House" by neighbors and "Buckingham Phallus" by cheeky journalists, was erected in 1958 by acclaimed Aussie architect Stan Symonds, News.com.au reports.
Inside, the four-bedroom house looks like a series of circles. It is only from the air or looking at the blueprints that one sees the whole package, according to Phil Vanstone, the real estate agent in charge of selling the property.
"Most of the time the husbands get it immediately," he said, according to the Daily Telegraph. "You can see the wives nudging them, telling them to shut up."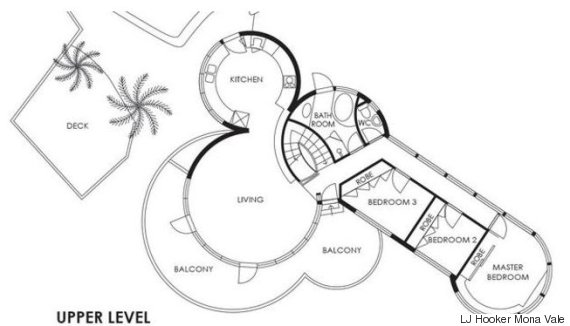 Vanstone believes that the architect's dick design was intentional.
"He is a very bright fellow, so I imagine he probably does know it is shaped as the way it is," Vanstone told Mashable. "[The current owners] think it is a bit tongue in cheek."
The listing touts the tranquil bushland backdrop, double brick and concrete construction with beautiful sandstone features, and floor-to-ceiling glass in the living and dining areas.
It is unknown whether anyone has placed a bid on the penis house, but Vanstone hopes to sell the house some time in the next month.
SUBSCRIBE TO & FOLLOW WEIRD NEWS
The Huffington Post's Weird News email delivers unbelievably strange, yet absolutely true news once a week straight to your inbox. Learn more