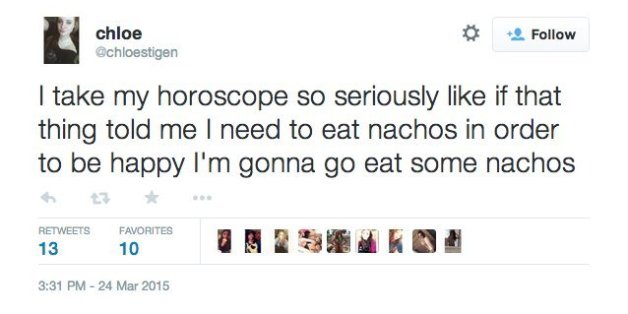 Every week, we round up the best 140-character quips and insights from our esteemed blogging team -- and other equally awesome teen tweeters. Scroll down to read the latest batch and share your own suggestions by following @HuffPostTeen!
pisses me off when I type "tru" and it autocorrects to "try" like can you not just let me be 2 Chainz
I have a real big fear over hurdles but I'm proud to say I got over it
I think I spend more time with my friends animals then actually with them
my grandma is telling me how zayn isn't that attractive i don't care if you're my grandmother i will actually fight you
All I want is a 4.0 GPA, a perfect body, $100,000 in my bank account, and an unlimited supply of burritos.
i've got 99 problems and summer would solve all of them.
Am I getting sick or is this spring allergies: an ongoing internal struggle
i'm selling my brother for $200 he can cook grilled cheese feel free to dm me for details k thx
All these super cute promposals, but I can barely get 2 bucks for an ice cream cone from chickfila.😂😂😩😭
wow spring break 2k15 so crazy all this Netflix and layin in bed by myself is wild yo!!!!!!!!!!!
I take my horoscope so seriously like if that thing told me I need to eat nachos in order to be happy I'm gonna go eat some nachos
I'm fourfiveseconds from being done with school
Followed P Diddy on Instagram for about 15 seconds before my dog grabbed my phone from me, unfollowed him and put me back in my cage
im a lot nicer than my "walking to class" face i promise
can they make a zayn hologram like they did at Coachella with tupac that's all I need right now
SUBSCRIBE AND FOLLOW
Get top stories and blog posts emailed to me each day. Newsletters may offer personalized content or advertisements.
Learn more