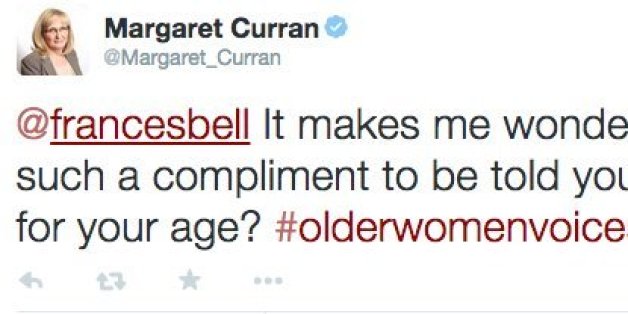 Sexism is a harsh reality many women face, whether in the form of catcalling on the sidewalk or sexual harassment in the workplace. And, as women age, it can also take an ugly turn into ageism. It's an issue that the Everyday Sexism Project wants to shed light on by asking women all over the world to share their stories.
#olderwomenvoices At my tribunal for BBC ageism and sexism a BBC producer called me 'a little black dress, not a red carpet frock'
This week the project asked older women to share instances when they've been made to feel singled out not only because of their gender, but also because of their age. A few Huff/Post50 bloggers also have written on the topic of feeling "invisible" as a woman over 50, with Arlene Schindler saying, "As a woman in my 50s, walking down a city street, I feel invisible to almost any man walking past me. I've been that unseen woman over and over again. Friends have echoed this experience to me as well." Needless to say, her words struck a chord with many readers.
Similarly, using the hashtag #olderwomenvoices, the Everyday Sexism Project asked older women to share their candid thoughts and feelings on Twitter. Here are a few tweets that stood out, talking about everything from anti-aging and stereotypes, to worrying about the next generation of women. Let us know your own feelings about being an older woman in comments below.
The fact that my generation is ACTIVELY AFRAID of aging, as it means we'll somehow cease to exist as women makes me cry. #olderwomenvoices
I get really cheesed off by the way attention is drawn to women's appearance, particularly when we are older #olderwomenvoices
Enormous beauty market of 'anti-aging' products aimed particularly at women implies wrinkles etc. ugly/negative #olderwomenvoices
A lot of the online abuse I receive is ageist and sexist - #olderwomenvoices will not be silenced by cowardice.
relevant #olderwomenvoices stereotypes include can't do tech - shrillness if complain - not worth listening to
#olderwomenvoices Our society needs to wake up to the fact that wrinkles are not offensive!
Some facts: 1. older women's unemployment has risen by 30% since 2010 (but for men the same age has decreased) #olderwomenvoices thoughts?
I don't expect a seat on the tube but am amazed how many young men race me to the last seat & are pleased when they win #olderwomenvoices
And wondering at what age you make the transition from "silly little girl" to "stupid old hag" #olderwomenvoices
SUBSCRIBE TO & FOLLOW PARENTS
HuffPost Parents offers a daily dose of personal stories, helpful advice and comedic takes on what it's like to raise kids today. Learn more