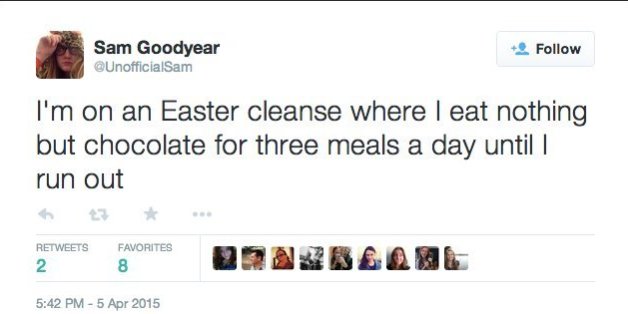 Every week, we round up the best 140-character quips and insights from our esteemed blogging team -- and other equally awesome teen tweeters. Scroll down to read the latest batch and share your own suggestions by following @HuffPostTeen!
The day snapchat tells you how many times you viewed the same story will be the end of the world for me.
ON THIS EPISODE OF "WILL AUDRY MAKE IT TO SCHOOL ON TIME?!"
Easter egg hunt but instead of chocolate you look for all the times you wronged the people you love and try to fix irreparable relationships
chemidying and chemiscrying cause I'm done CHEMISTRYING
Happy spring break! I'm single
i've officially learned how to type on a computer without looking at the keyboard so pretty much im an adult now
"If you love something, let it go." Does this mean I have to stop eating pizza???
i'm dropping out of school to become a nail polish namer
I'm on an Easter cleanse where I eat nothing but chocolate for three meals a day until I run out
Whenever I walk into a room & forget what I was about 2 do, I feel like God is playing Sims & clicked cancel on the "go here" command 😂
drakes deeper than the mariana trench tbh
PUBLIC SERVICE ANNOUNCEMENT: it is in fact okay to wear an outfit twice in a row if no one saw you in it the first time
SUBSCRIBE TO & FOLLOW LIFESTYLE
HuffPost Lifestyle is a daily newsletter that will make you happier and healthier — one email at a time. Learn more