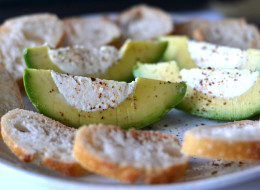 There are a lot of great cheeses out there, and goat cheese is at the top of that list. There are of course delicious hard goat cheeses, but soft goat cheese is what we're going to talk about today. It's the creamiest of the creamy cheeses, and it's got personality too, which comes across in its tangy flavor.
While we could easily eat this cheese with a spoon -- don't judge -- or smeared on a nice crusty piece of bread with a drizzle of honey, goat cheese really comes alive when you use it in the kitchen. It has the ability to liven up a grilled cheese, reinvent a margarita pizza or give a new tangy twist to pasta. Check out what we're talking about with the most glorious recipes below.
Artichoke Souffle With Goat Cheese And Thyme

Feasting at Home

Goat Cheese Stuffed Fig, Melon And Prosciutto Salad

Foodie Crush

Spicy Goat Cheese And Butternut Squash Triangles

Adventures in Cooking

Sweet Potato Soup With Brown Butter And Goat Cheese

Verses From My Kitchen

Beet Bruschetta With Goat Cheese And Basil

Feasting at Home

Fried Goat Cheese With Honey And Black Pepper

Alexandra Higgins/Food52

Chocolate Fudge Goat Cheese Ice Cream

How Sweet It Is

Moroccan Chicken Salad With Pistachio Crusted Fried Goat Cheese

Half Baked Harvest

Asparagus, Bacon And Goat Cheese Tart

A Beautiful Mess

Berry Crostini With Whipped Goat Cheese

Damn Delicious

Gluten-Free Goat Cheese Dill Mini Biscuits

Boulder Locavore

Green Chile Bacon Burgers With Goat Cheese

P&E Yummilicious

Zucchini Frittata

Steamy Kitchen

Chocolate And Goat Cheese Soufflé

Adventures in Cooking

Savory Mini Muffins With Goat Cheese, Red Onion And Rosemary

Bev Cooks

Avocado And Goat Cheese Bombe

vvvanessa

Roasted Grape + Goat Cheese + Honey Stuffed Sweet Potatoes

How Sweet It Is

Herbed Burst Tomatoes, Goat Cheese And Farro

Naturally Ella

Roasted Red Pepper + Bacon Goat Cheese Truffles

How Sweet It Is

Goat Cheese Fondue With Fried Sage

How Sweet It Is

Butternut Ribbon Goat Cheese Pizza With Arugula-Pepita Pesto

Cookie + Kate

Smoked Salmon, Dill And Goat Cheese Quiche

Bev Cooks

Sautéed Kale And Goat Cheese Crostini With A Balsamic Reduction

Adventures in Cooking

Red Wine + Goat Cheese Risotto With Caramelized Mushrooms

How Sweet It Is

Corn, Goat Cheese, Basil And Lemon Tart with Basil

Dash and Bella/Food52

Smokey Roasted Chicken Tacos With Spicy Goat Cheese Queso

How Sweet It Is

Roast Corn, Goat Cheese And Caramelized Onion Quesadilla

Foxes

Beet, Goat Cheese And Walnut Tart

Alexandra Cooks

Red Wine Roasted Mushrooms On Goat Cheese Garlic Toasts

How Sweet It Is

Easy Goat Cheese Appetizers

A Beautiful Mess

Warm Goat Cheese Salad

Steamy Kitchen

Pumpkin And Goat Cheese Pastries

Arctic Garden Studio

Rustic Pear, Serrano Ham And Goat Cheese Tartlets

thirschfeld/Food52
Want to read more from HuffPost Taste? Follow us on Twitter, Facebook, Pinterest and Tumblr.