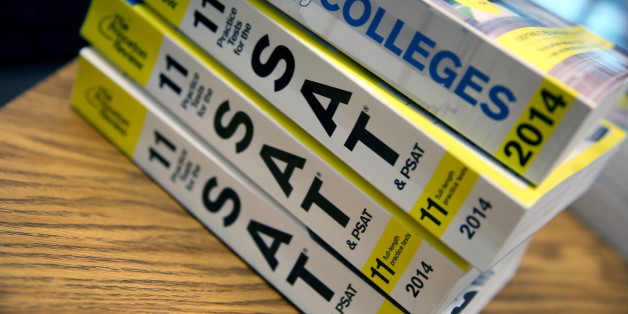 HONG KONG, April 29 (Reuters) - As students around the world cram for this Saturday's SAT college entrance exam, many in Asia are poring over old tests in hopes the College Board will again reuse a test that has leaked ahead of time. These bootleg tests are widely available on Chinese websites to download for free.
Students and tutors were amazed in January after thousands who flocked to regional testing hubs in Hong Kong and Singapore discovered they were given the same exam administered in Asia the previous June. In the intervening months, copies of the exam freely circulated on the web, giving students in Asia a leg up in the fight for prized slots at premier U.S. universities.
The recycled test was all the more surprising because the College Board, which owns the SAT, has been plagued for years by test leaks and other security breaches in Asia.
The problems have prompted tens of thousands of test score delays across Asia and raised questions about the integrity of the exam, a central piece of U.S. university applications. Students from China and South Korea, where the most widespread problems have been reported, represent two out of every five foreign undergraduates enrolled in U.S. colleges.
"The recycling of tests is serious. It is giving Asian students a huge advantage over American kids," said Duc Luu, founder and CEO of The Edge, which provides test prep and college consulting services to students in Hong Kong and mainland China. Unless the College Board puts out new tests for each sitting, he said, "they are going to give students the incentive and ability to cheat."
All SAT tests are copyrighted, the College Board says, and cannot be copied or distributed legally unless the board specifically releases them as practice tests. Even then, the exams can only be purchased from the College Board itself, the organization says. When students register for the SAT, they agree to the test's terms and conditions, which state: "Test materials are secured before, during and after the test. You are prohibited from accessing secured test materials at any time before or after the test."
Yet in February, the College Board announced some international scores from the January test were being delayed "due to a potential security violation," without elaborating. It was the fourth consecutive test in Asia that had widespread score delays and cancellations because of cheating allegations.
"FAIR TESTING ENVIRONMENT"
College Board spokesman Zach Goldberg said the company is committed to ensuring "all students have access to a fair testing environment and to fulfilling our responsibility to deliver test scores with integrity."
He declined to discuss the decision to reuse the June test in January. "As a matter of test security, we do not share any information that could aid anyone seeking an advantage," he said.
Goldberg added that media accounts "purporting to reveal how agencies and individuals attempt to cheat on the SAT have been either simplified or inaccurate." He declined to elaborate.
Test prep tutors in Asia told Reuters the January score delay affected thousands of students from Korea and mainland China who took the test. The bulk of those scores have since been released, the tutors said.
Seven years ago, the College Board canceled the SAT scores of 900 South Korean students after some students saw sections of the exam ahead of time. In May 2013, exam leaks forced the cancellation of the SAT across South Korea.
Education Testing Services (ETS), which is contracted by the College Board to make and administer the SAT worldwide, subsequently tightened security in Korea, centralizing test storage and reducing the number of local test dates. Yet breaches have spread in Asia. In October 2014, ETS withheld scores for every student from mainland China and South Korea, causing chaos for thousands of high-school seniors. Test results in November and December, along with the scores from January, were also delayed.
In December, the College Board acknowledged in a statement on its website that some people and organizations had "illegally obtained and shared test materials."
FIERCE COMPETITION FOR ADMISSIONS
The cheating scandals are a sensitive issue for the College Board, whose scores are a key part of a university application. Test scores have become especially important as entry into America's elite colleges and universities has grown more competitive. Applications to elite colleges have soared in recent years. But top schools have barely increased enrolment, becoming ever more selective. This year, Stanford University admitted just 5 percent of applicants.
Nearly all U.S. colleges and universities require applicants to take either of two standardized tests: the ACT, which is sponsored and run by the non-profit ACT Inc., and the SAT, which is owned by the College Board and administered by ETS, which are also non-profit organizations.
Among international students, the SAT is the dominant choice. More than 136,000 high school seniors took the SAT in 2014 outside the United States, according to the College Board.
Last year, 150,000 students from China and South Korea were enrolled in U.S. colleges, 40 percent of all international undergraduates in the United States, according to the Institute of International Education. The number of Chinese undergrads in U.S. colleges grew 18 percent from the previous year.
What makes the leaks possible is the fact that the College Board recycles some of its tests, in whole or part. Exams that are given in the United States are sometimes reused months or years later in Asia.
Students and test prep companies are allowed to buy certain tests directly from the College Board after those exams are retired from use. But tests slated for reuse aren't supposed to circulate. Nevertheless, the consequences for being caught with unreleased tests are minimal for students and test prep companies in Asia, so leaks are endemic.
Chinese and Korean test prep companies place heavy emphasis on using real SAT exams as practice tests, whether they have been officially released or not. Students scour the web for unreleased tests they can use for practice.
Reuters found copies of the June 2014 test on Chinese websites such as Sina Weibo, Baidu and popular online forums such as zhan.com and cuus.info, which stands for Chinese Undergraduates in the United States.
"That's the thing that the makers of the exam in America don't understand about Asia - if you tell kids and parents in Asia that they have to work 1,000 hours and take every possible practice test to ace the exam, they will do it," The Edge's Duc Luu said. "The problem is when you memorize the questions, sections will be reintroduced, and then you'll have already seen the test."
One January test-taker told Reuters he downloaded the June 2014 test from an Internet forum for Chinese students. Going into the January exam, he said, he had no idea the June test would be reused. The student said he had taken two test prep courses and completed nearly every released SAT practice test since 2006, around 30 in total. The high school student, from mainland China, spoke on condition of anonymity.
In the week leading up to the January test, rumors began to circulate that it would be a repeat of the exam given in the United States in June 2014. Students poured into online forums, asking for copies of the U.S. test.
As the rumors swirled, a copy of the Asia version of the June 2014 test was posted anonymously to an SAT web forum on zhan.com, four days before the January 24th exam. This version of the test proved to be the one that was given on January 24.
(Additional reporting by James Zhang. Editing by Michael Williams and Bill Tarrant)
SUBSCRIBE AND FOLLOW
Get top stories and blog posts emailed to me each day. Newsletters may offer personalized content or advertisements.
Learn more