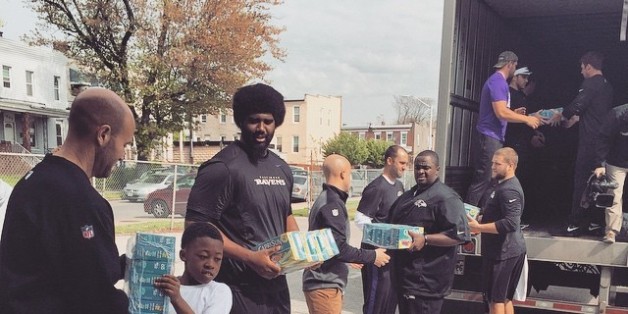 The Baltimore Ravens showed true sportsmanship this week.
Days after riots broke out in Baltimore following the funeral of 25-year-old Freddie Gray, the city's NFL team took it upon themselves to pitch in and help local citizens on Thursday. From giving speeches to handing out food, the players were out doing good.
A group of Ravens staff members and 55 players, including quarterback Joe Flacco, first stopped at Matthew A. Henson Elementary School and handed out food and toiletries to about 600 families, according to the Ravens' website. The effort was done in partnership with the Maryland Food Bank, along with a donation of 7,000 items from Giant Food.
85 @Ravens volunteers, 55 of whom are players, unloaded, sorted and handed out food to over 500 Baltimore families. pic.twitter.com/wyRccgSHnN
Our first stop is dropping off some food at a local elementary school. Check out that hand off. #Baltimore pic.twitter.com/Mso2wwPtch
We love this city. Always have. Always will. #BaltimoreStrong pic.twitter.com/dbxfAbUehB
The act was greatly appreciated by local residents. As the nearby grocery store was looted and burned, and another pharmacy had been damaged, resident Sadie Brown said the team's work would "touch a lot of people," according to the Baltimore Sun.
The good deeds didn't stop there. Ravens members split up and visited Frederick Douglass High School and Excel Academy, according to the organization's website. Head coach John Harbaugh and former linebacker Ray Lewis, who both visited Frederick Douglass, met with students for an assembly. Lewis addressed students with a positive message, saying "if you want to make real change, be the example of change."
Ray Lewis is addressing the students at Frederick Douglass High School. #BaltimoreStrong pic.twitter.com/Laur14A7Hp
Ray Lewis: "Now it's about each other. It's about coming together." #BaltimoreStrong
Ray Lewis: "If you want to make real change, be the example of change." #BaltimoreStrong

Throughout the day, athletes and coaches showed Baltimore their love.
Ray Lewis greeting police officers outside Douglass High pic.twitter.com/IdvhvnQcOl
Good to give back to the community that supports us so strongly!
Raven Selfies 😂 #RavensNation pic.twitter.com/AzekOxJKuF
Players and coaches are in #Baltimore today, helping to restore our beautiful city. pic.twitter.com/Byo5oRRMLw
Coach is showing the #Baltimore love. pic.twitter.com/21gBNQs9Iu
Way to go, Ravens. You scored a touchdown in our hearts.
SUBSCRIBE TO & FOLLOW THE MORNING EMAIL
The Morning Email helps you start your workday with everything you need to know: breaking news, entertainment and a dash of fun. Learn more