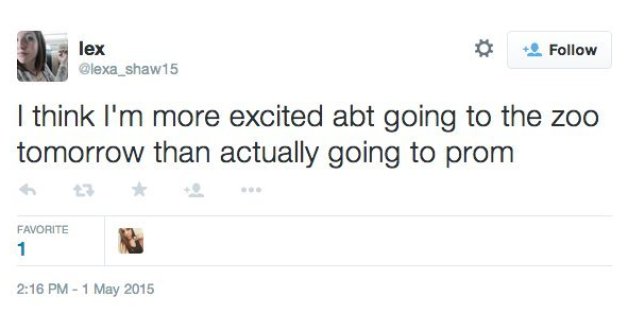 Every week, we round up the best 140-character quips and insights from our esteemed blogging team -- and other equally awesome teen tweeters. Scroll down to read the latest batch and share your own suggestions by following @HuffPostTeen!
I'm going to need a ton of puppies, iced coffee, and ice cream to get me through the rest of this week
people running the London Marathon
My only talent is mastering dubsmash
The only reason I post my Instagram pictures onto Facebook is so people know I'm not dead
Squad goals pic.twitter.com/svuURqquyH
. @instagram you updated and still didn't put the "follows you" on profiles step up yo game this ain't child's play
You unfollowed me because your afraid of falling in love with me. I know
Where do broken hearts go you ask? Wherever the 1D in Zayn Malik's twitter handle went.
I think I'm more excited abt going to the zoo tomorrow than actually going to prom
Do you ever think about something and get so excited you almost puke because I don't know if you know this but there's a NEW FANTASTIC FOUR
They probably didn't want me to be THAT honest on the senior survey 😅
You know, I should probably be scared by the fact that every employee at the pizza place knows my name by now, but I'm REALLY okay with it.
The most comforting thought I have is that if Beyonce were in my position, she wouldn't know what to do either.
"females and their purses"

how about males and their rando backpacks like are you going to math class or the movies
SUBSCRIBE TO & FOLLOW LIFESTYLE
HuffPost Lifestyle is a daily newsletter that will make you happier and healthier — one email at a time. Learn more