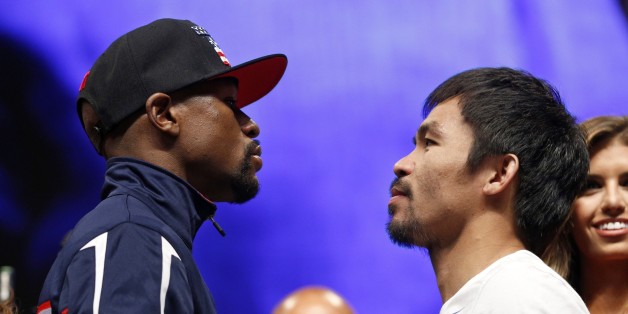 Could have seen this coming.
The demand for the Floyd Mayweather-Manny Pacquiao fight, one of the most highly-anticipated fights in boxing history, is causing the cable companies carrying the pay-per-view event to buckle, and many cable and satellite customers are reporting their service is unavailable.
Hearing reports of what HBO & Showtime most feared. PPV providers & systems are starting to jam up from the traffic
When the starting bell should have been rung late Saturday night, HBO's Jim Lampley said that the fight had been delayed due to "electronic overload." A representative for HBO said the fight could be pushed back 45 minutes so that cable companies could restore service, Sports Illustrated reported. (They finally did get things in order, giving the fight a late start.)
The outages were happening to may cable providers, according to CNBC's Steve Kopack.
My count of cable companies currently fielding PPV issue tweets: Verizon Cox Charter Comcast Cablevision DirecTV DISH Bright House AT&T RCN
Service issues were reported in cities around the nation, including Los Angeles, New York, St. Louis and more, according to DownDetector.com. There were reports of issues with service from Charter, Time Warner Cable, DirecTV, Dish Network and other cable providers.
Some customers said they were unable to order the fight, others complained of issues with the picture or being able to access the channel.
"There are more orders tonight than any night in PPV history. Fans should just be patient and distributors will process their orders," HBO said, according to Richard Sandomir of The New York Times. HBO is carrying the fight for customers willing to pay up to $100 along with Showtime.
HBO says"There are more orders tonight than any night in PPV history.Fans should just be patient and distributors will process their orders"
We are working to resolve any remaining issues related to the Mayweather-Pacquiao fight. Thank you for your patience.
For the cable companies' sake, let's hope people remember the great fight and not the technical issues they got with their $100 bill.
THE WORST TV SERVICE EVER IS @dish DISH TV IS A DISASTER!! THANKS DISH TV FOR NO PACQUIAO MAYWEATHER FIGHT
Ordered #MayweatherPacquiao fight on .@comcast .@XFINITY. Can't view fight, been on hold for almost 2hrs, server errors online. #nothappy
Are you kidding me @TWC_Help @TWC ??!!! I just want to see #MayPac :'( 1st day of service, not a good start! 😠 pic.twitter.com/8jbWOQUjk5
.@TWC_Help told me SD is only working right now and HD may not be resolved by fight time. Happy 1995, everyone. pic.twitter.com/L8e1aOyJE1
Also on HuffPost:
Floyd Mayweather Jr. vs. Manny Pacquiao
SUBSCRIBE AND FOLLOW
Get top stories and blog posts emailed to me each day. Newsletters may offer personalized content or advertisements.
Learn more