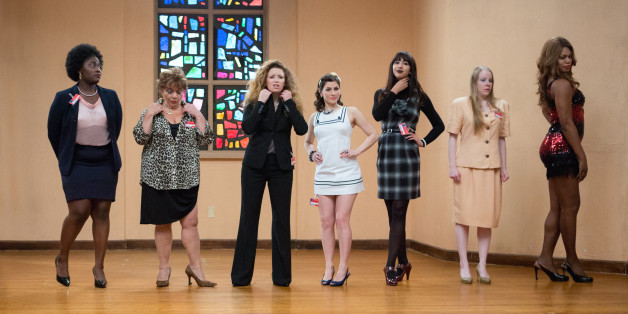 In 2005, "The Shield," "Deadwood," "Battlestar Galactica," "Rome" and the first incarnation of "Arrested Development" were all on the air. "Grey's Anatomy," "Lost," "Veronica Mars" and "House" were early in their runs. Many of us probably thought the TV scene couldn't get any better. We were wrong.
The top tiers of television have stayed good and even great, and the art form has radically widened its scope and ambitions in the past decade. Where we watch it, when we watch it, who delivers it and how much (or whether) we pay -- all those things have changed tremendously in the past decade.
What hasn't changed is why we watch. We watch to see ourselves in all kinds of fantastical and yet identifiable circumstances; we watch to tell ourselves a story about who we are, what we believe in and who we could be. Television gives us ideas what we're capable of, and even "Breaking Bad," the story of a man who finds out just how awful he can be, inspired countless tributes to its artistry, moral complexity and intensely realized vision.
Here's what this list isn't: It's not a list of the best TV programs of the past decade. It's merely a roster of shows that helped us think differently about the medium and see new possibilities, in distribution, in form, in content, in theme, in the kind of characters that are entrusted with a difficult duty: Embodying our dreams, hopes and fears.
Of course, it's a highly idiosyncratic list, and no doubt yours would be very different. I can relate -- my own list might be different if you asked me for a roster of influential programs a few months from now. It's just a list to ponder, one that I came up with as I reflected on the past decade of evolution in the realm of entertainment that seems most willing to change, evolve, adapt and find new ways to snare us and make us think.
We certainly don't lack for choice: According to Vulture, the number of scripted shows on cable has grown by 683 percent since 2000 (and that's not counting the broadcast networks, streaming services and PBS). Going through my mid-aughts Top 10 lists was an instructive experience. Back then, I thought I had hard choices to make, but little did I know how preposterously crowded the TV realm would get. There were programs on my old rosters that would barely rate Honorable Mentions now.
That's nothing to be sad about, though I'm sure we all miss sleep and interacting with loved ones. In any event, there are a lot of wonderful shows out there these days, and more ways than ever to watch them. Here are a few of the ones that helped me -- and maybe some of you -- think differently about TV during the past decade.
"American Horror Story" (debuted October 2011 on FX): These days, TV is awash in miniseries, TV movies and anthologies, but that was most definitely not the case in 2011, when this strange fever-dream arrived on the scene. Very little about this highly stylized show is linear or logical; "AHS" is much more interested in creating moments and effects than in consistency and tastefulness. That said, it has achieved moments of true poetry (especially in its haunting second season), and in an increasingly crowded TV landscape, "AHS'" ability to draw attention to itself with its rotating top-shelf repertory company and with provocative storylines has made it not just an undeniable TV mainstay but a marketer's dream.
"The Walking Dead" (debuted October 2010 on AMC): Of all the shows on this list, this one might actually be the most influential of all. As I said in my 2014 year-end list, this AMC zombie chronicle helped kick-start the blockbuster-ization of TV. It was a rising trend for some time -- the mining of existing intellectual property (books, movies, old sitcoms and dramas, comic books, grocery lists) for potential television ideas and the current wave of superhero programs are just the most prominent parts of that franchising phenomenon. The success of "The Walking Dead" is so outsized that, in an era of shrinking audiences and declining ratings, its huge ratings dwarf almost everything around it. Not only is a spinoff coming, other networks have tried hard to achieve success with shows in the horror and apocalyptic realm, and don't expect them to stop any time soon. AMC found major critical success and some commercial success with "Mad Men" and "Breaking Bad," both of which were the products of singular auteurs, but "The Walking Dead" has had an array of showrunners and yet has managed to keep on stomping all its competitors. Does that mean the era of the celebrity showrunner is over? No, but this show took a pretty big bite out of it.
SUBSCRIBE TO & FOLLOW ENTERTAINMENT
HuffPost Entertainment is your one-stop shop for celebrity news, hilarious late-night bits, industry and awards coverage and more — sent right to your inbox six days a week. Learn more